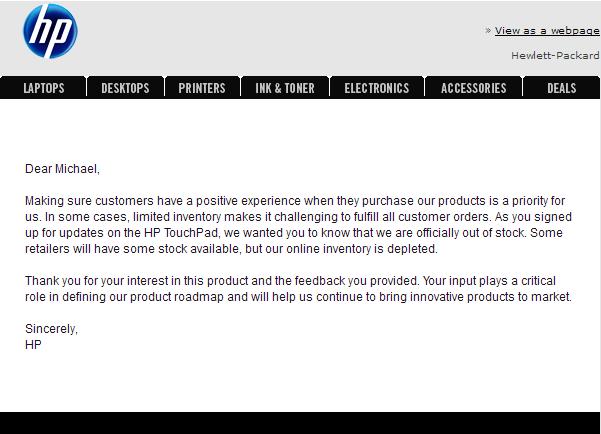 This weekend HP sent out the notice above, pretty much killing off any hope that they will have another massive 'fire sale' blowout like they did two months ago. Here is what it says:
Making sure customers have a positive experience when they purchase our products is a priority for us. In some cases, limited inventory makes it challenging to fulfill all customer orders. As you signed up for updates on the HP TouchPad, we wanted you to know that we are officially out of stock. Some retailers will have some stock available, but our online inventory is depleted.
There are two possible interpretations of this: that after filling all of the back-orders with the TouchPads they were supposed to make in the third quarter to empty the supply chain, they simply don't have any left.
Some have also speculated that seeing the response to the fire sale made HP realize the value was higher than $99/$149 for the 16GB & 32GB models. But others have said that due to statements from HP it is unlikely they could sell them for a higher price themselves without landing in some trouble with regulators.
Or maybe, just maybe … HP has figured out a way to sell the remaining 100,000 – 200,000 TouchPads for $149.99 without getting into trouble, yet also exacting a higher profit for themselves!
How? Well, according to a report from Reuters, HP is teaming up with Best Buy (who, if you recall, were the ones stuck holding most of their 270,000 TouchPads when HP cancelled them) offering customers the ability to buy a 32GB TouchPad for $149 with HP PC purchases through the store or website. The program starts on November 1st and is a pretty clear holiday incentive.
Here is the release from Reuters:
Best Buy (NYSE: BBY) today announced that beginning Tuesday, Nov. 1, customers can get the HP TouchPad for the low, low price of $149.99 with the purchase of an HP or Compaq Laptop, Desktop or All-in-One computer1. Customers can take advantage of this deal online at BestBuy.com, and at all Best Buy and Best Buy Mobile standalone stores nationwide.

The HP TouchPad is designed to work like you do, so you can accomplish more, and connect, play, surf and share more easily. provides the ability to seamlessly move back and forth between apps without losing your place while automatically grouping similar activities together. The HP TouchPad webOS operating platform and comes with 32 GB of storage space.

Best Buy is advancing growth of the tablet category by combining the most tablets under one roof with a shopping experience that allows customers to easily try to compare devices. These devices are emerging as priorities on holiday gift lists, as more consumers consider how each can contribute to a faster, easier or more mobile entertainment, work or connections experience.
So the strategy seems pretty clear – when HP needed to empty the supply chain they decided to build all 32GB models (higher return). Then they saw that the demand for the TouchPad sustained for a couple of MONTHS and the units demand high prices on eBay. Finally, with the decision to hold on to the PC division last week, they saw the opportunity to use the remaining inventory to help sell even MORE PCs this holiday season.
What do you think? Is my assessment correct? Do you see this helping HP sell more PCs?
Source: HP info via email, TouchPad with PC from Reuters via TechCrunch