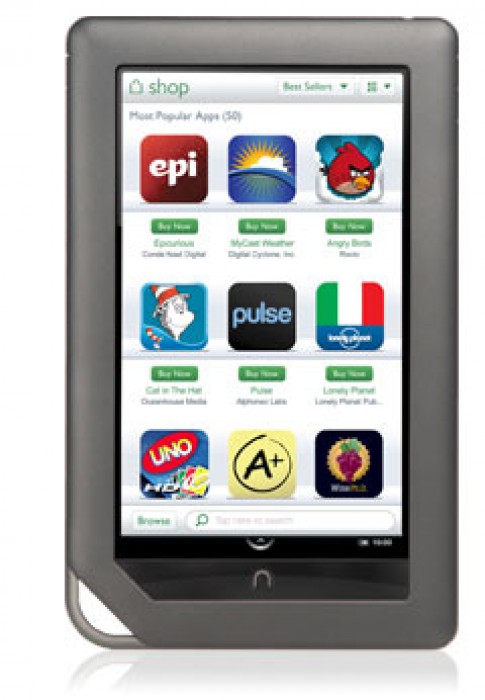 It's been just about a year since Barnes and Noble announced their popular NOOKcolor tablet, and it's looking like the successor is on deck! eBooknewser is reporting they received an invitation to a B&N press conference, and since the logo was a big n for NOOK…it doesn't take a rocket scientist to put the pieces together!
The big question is what this NOOK is going to be like. I think it's safe to say we'll see some beefed up specs over the original NOOKcolor. Most likely the new NOOK will be more media-friendly, with better support for watching movies (maybe even Netflix or Hulu+ support). I also expect to see improved app offerings, and possibly a revamped app store. Basically, B&N needs to take steps to compete more directly with the Kindle Fire and iPad. For better or worse, between the Fire and the iPad people are being trained that tablets=media consumption, and if B&N's doesn't step it up they'll get caught in the crossfire.
Now, the other big question here is price. The original NOOKcolor was $249, but various daily deals sites have offered new and refurbished units for much cheaper. At the high end, the NOOKcolor 2 can't get above $199 to be competitive, and if B&N can swing it, coming in at $189 would really push their rivalry with Amazon into high gear. It would also knock back the Kobo Vox, a book-oriented tablet nipping at the heels of the Fire and the NOOKcolor 2.
What's on your wish list for the next NOOK? Did you pre-order a Fire or are you waiting for B&N's offerings? Let us know below!