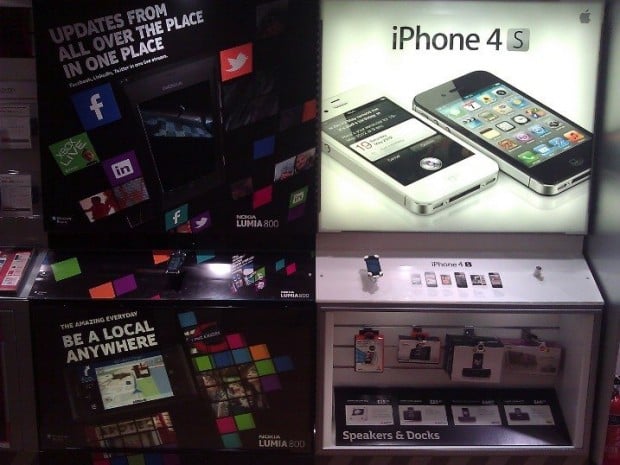 After a first year that can most generously be called "disappointing", Microsoft and their key partner Nokia have been working hard to make this second year a success. Microsoft started with an amazing launch of Windows Phone 7.5 'Mango', which rolled out to all phones worldwide within only a few weeks – and that is counting a specific technical issue with an EU carrier that delayed roll-out for a couple of weeks!
Nokia introduced their first two Windows Phone 7 devices recently, and while many had hoped for powerhouse phones (or a front facing camera), what Nokia is delivering is a stylish package and reasonable hardware that will work well with the Windows Phone 7.5 operating system … well, when they come to the US next year.
So we have an operating system and a handset from the premier partner – now we just need an advertising campaign, right? Let people know about this new stuff. The 'phone that saves us from our phones' campaign last year was an abject failure for two reasons – it didn't give a compelling reason to BUY a Windows Phone, and quite frankly people don't WANT to be saved from their phones!
Over at WMPowerUser there is a post showing a new Nokia display in a Phones4U store in the UK.
I had two immediate thoughts:
- What the heck is that dark stand next to the iPhone 4S display?
- What the heck are they trying to advertise?
Some have stated on first glance the display looks like an odd app-centric extension of the iPhone display. But no chance – one look at the iPhone display and you know EXACTLY what is for sale, and the apps are secondary to the product. The iPhone display is clean and bright, with a focus on simply presenting the phone itself.
In contrast, looking at the Nokia display, it was only by seeing the XBOX Live that triggered "ah, Microsoft" realization for me … and even then it could have been something about XBOX Live on the X360 for all I knew. I really had to LOOK before I could find the small Nokia Lumia 800.
After looking at this image for a bit, what I was stuck wondering was exactly WHAT they were selling? Certainly NOT Windows Phone 7 since it isn't shown anywhere I could see. Also NOT the Nokia name, since it is one of the smaller things shown. Nor are they really selling the phone itself, since they chose a dark phone that simply disappears into the background.
So … what it ends up they are selling is the association with Facebook, Twitter and LinkedIn, and XBOX Live. My impression is that rather than selling their own brands, they have chosen to try to push established brands to try to trick customers into looking and hope that some people like what they see and buy.
That is just sad, when two of the great titans of mobile computing cannot advertise based on their own strengths, but instead panders using someone else's name. Worse still, the display is dark and muddled and unclear. On second thought, maybe Microsoft and Nokia are better off not being closely tied to the display!