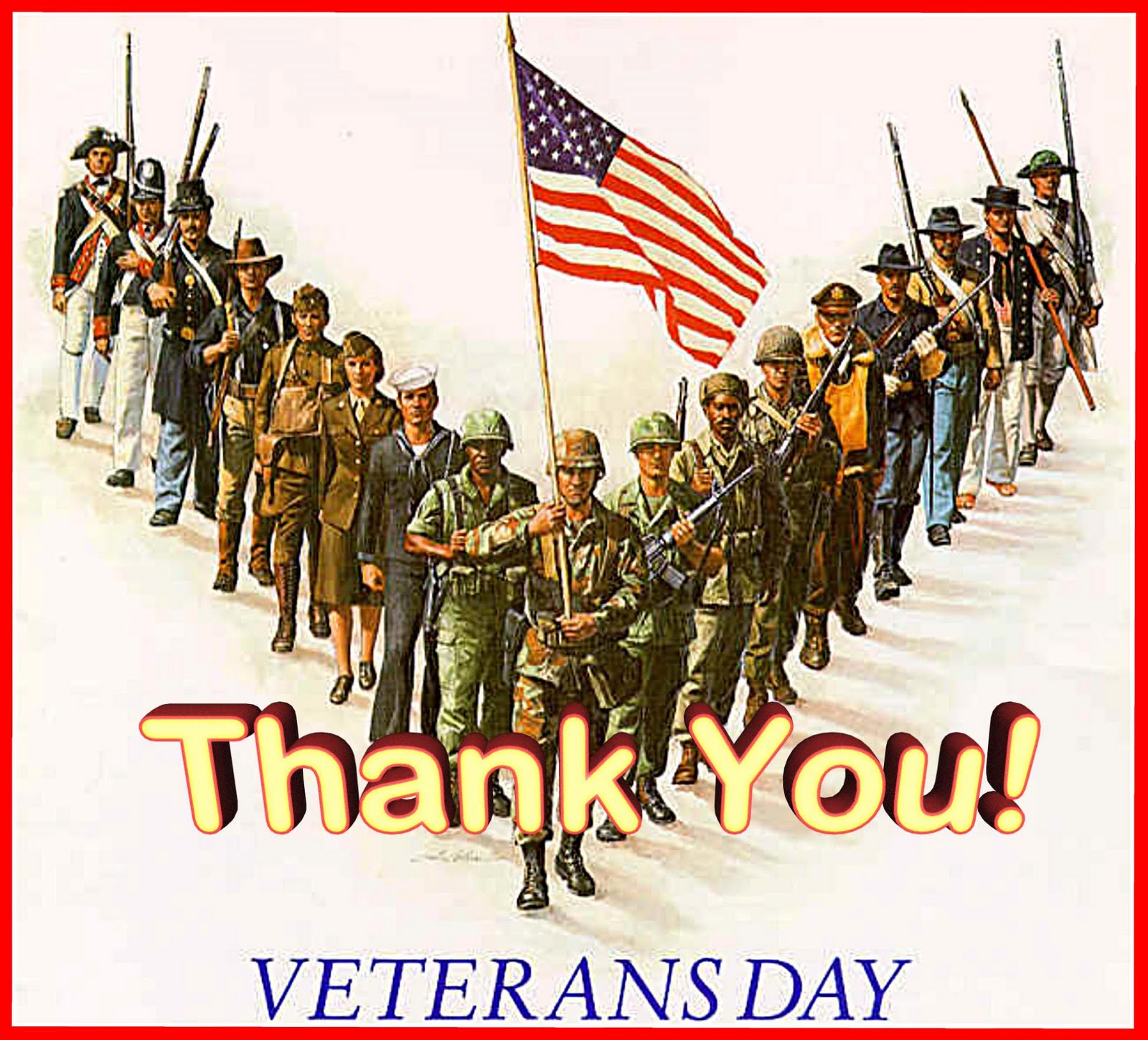 Image courtesy of Free Republic

Happy Veterans Day! But what does that really mean? Does it mean that everyone in uniform is a Veteran? Does it just mean another day off of work for some or some killer deals at the local Home Depot and Best Buy? The short of it is, that it's a day to honor all those who have served. In my opinion there simply aren't enough of those days in the year. Some may question what the criteria is to be an actual veteran, and I'm not fully sure myself what officially qualifies you in the eyes of the government. The way I see it, if someone has served or are still serving, then in my book they are qualified as one of our nation's Veterans. The best was to thank a Veteran is simply to let them know you appreciate that sacrifices they made (or will make) for their country. So find yourself a Veteran today and let them know that their service is appreciated. 
Veterans day for me is more a sense of pride and a day the think about some of my past experience in the military. I reserve Memorial Day to remember and honor my fallen brothers and sisters, but keep Veterans Day to all the positive moments in my career. I have met and served with so many people who have changed my life for the better. I've made so many new friends and colleagues from all over the world that I probably would never have met if I were not part of the Army. I applaud all Veterans on this day and appreciate all the thanks I get from everyone during this day. It's also nice that some business's offer all sorts of discounted meals and purchases for all troops as well. The sense of pride I get from all the support is really what makes it all worth it to be a soldier. So I thank you America for all the support you give to our troops, most of the time that is all they need to keep doing what they do best, and that's defending this great nation.
One last thing to note is to not forget our soldiers of the past. It's too common today that all the credit goes to those serving in the recent Iraq and Afghanistan conflicts. Those who served in the World Wars, Vietnam, Korea, and Kuwait are and will always be remembered. Today we have so many groups and organizations that help the Iraq and Afghan Vets through whatever they need, so too often I see the older Vets not appreciated. So my special Thanks to all those who served in the past, present and future.

Five Finger Death Punch – Tribute to the Troops
List of places a Veteran can eat for free (or discounted) today via The Military Wallet
*Thank you all again for believing in our troops. Soldiers do not always support the battles they fight, but as long as America support them, we will never lose.
History of Veterans Day
In 1921, an unknown World War I American soldier was buried in Arlington National Cemetery. This site, on a hillside overlooking the Potomac River and the city of Washington, D.C., became the focal point of reverence for America's veterans.
Similar ceremonies occurred earlier in England and France, where an unknown soldier was buried in each nation's highest place of honor (in England, Westminster Abbey; in France, the Arc de Triomphe). These memorial gestures all took place on November 11, giving universal recognition to the celebrated ending of World War I fighting at 11 a.m., November 11, 1918 (the 11th hour of the 11th day of the 11th month). The day became known as "Armistice Day."
Armistice Day officially received its name in America in 1926 through a Congressional resolution. It became a national holiday 12 years later by similar Congressional action. If the idealistic hope had been realized that World War I was "the War to end all wars," November 11 might still be called Armistice Day. But only a few years after the holiday was proclaimed, war broke out in Europe. Sixteen and one-half million Americans took part. Four hundred seven thousand of them died in service, more than 292,000 in battle.
Armistice Day Changed To Honor All Veterans
The first celebration using the term Veterans Day occurred in Birmingham, Alabama, in 1947. Raymond Weeks, a World War II veteran, organized "National Veterans Day," which included a parade and other festivities, to honor all veterans. The event was held on November 11, then designated Armistice Day. Later, U.S. Representative Edward Rees of Kansas proposed a bill that would change Armistice Day to Veterans Day. In 1954, Congress passed the bill that President Eisenhower signed proclaiming November 11 as Veterans Day. Raymond Weeks received the Presidential Citizens Medal from President Reagan in November 1982. Weeks' local parade and ceremonies are now an annual event celebrated nationwide.
On Memorial Day 1958, two more unidentified American war dead were brought from overseas and interred in the plaza beside the unknown soldier of World War I. One was killed in World War II, the other in the Korean War. In 1984, an unknown serviceman from the Vietnam War was placed alongside the others. The remains from Vietnam were exhumed May 14, 1998, identified as Air Force 1st Lt. Michael Joseph Blassie, and removed for burial. To honor these men, symbolic of all Americans who gave their lives in all wars, an Army honor guard, the 3rd U.S. Infantry (The Old Guard), keeps day and night vigil.
A law passed in 1968 changed the national commemoration of Veterans Day to the fourth Monday in October. It soon became apparent, however, that November 11 was a date of historic significance to many Americans. Therefore, in 1978 Congress returned the observance to its traditional date.
National Ceremonies Held at Arlington National Cemetery
The focal point for official, national ceremonies for Veterans Day continues to be the memorial amphitheater built around the Tomb of the Unknowns. At 11 a.m. on November 11, a combined color guard representing all military services executes "Present Arms" at the tomb. The nation's tribute to its war dead is symbolized by the laying of a presidential wreath. The bugler plays "taps." The rest of the ceremony takes place in the amphitheater.
Veterans Day ceremonies at Arlington and elsewhere are coordinated by the President's Veterans Day National Committee. Chaired by the Secretary of Veterans Affairs, the committee represents national veterans organizations.
Governors of many states and U.S. territories appoint Veterans Day chairpersons who, in cooperation with the National Committee and the Department of Defense, arrange and promote local ceremonies.
via Veterans Affairs