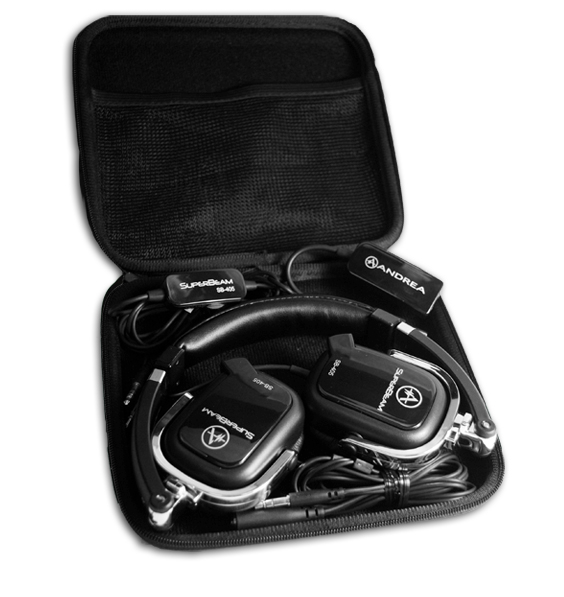 From the Editorial Staff of Gear Diary: Is there someone in your life who would benefit from speaking their text rather than typing it? If so, here are five gifts with which you can't go wrong.
The key to accurate voice recognition is wearing the right headphones. Andrea Electronics SuperBeam Phones are just the thing. We'll be reviewing the headphones over the next few days but they are already impressive. As the company explains
SuperBeam headsets deliver Hi-Definition sound for all your social media and multimedia applications. The unique integrated array microphone system is designed for use with Andrea's patented beam forming and digital noise reduction audio software, providing "Boom freed" convenience. SuperBeam also provides 3D surround sound recording, a unique new audio capture and playback feature!
They come in Black or White and are just $199.83 through our Amazon Affiliate Store.
A good, comfortable Bluetooth headset is key if you are doing voice recognition on the go. (Think iPhone 4S and Siri.) Dan's having great success with the Plantronics Voyager HD. It's comfortable, sounds good for phone calls and does an excellent job with voice recognition. The large button on the side makes triggering Siri simple.
And it is just $85.99 through our Amazon Affiliate Store.
Voice recognition needs good software and the best products come from Nuance. If you're using a PC running Windows obvious choice is Dragon NaturallySpeaking.
If you're using a Mac it's a bit of a tossup between Dragon Dictate for Mac and Dragon Express. (Read our review here.) Our suggestion – go with Dragon Express. It's less expensive and it's far more convenient because it runs as an enhancement to what you are doing rather than as its own separate program.
Dragon NaturallySpeaking Premium is just $129.99 through our Amazon Affiliate Store. Dragon Dictate for Mac is just $139.99.
If you want to do voice recognition on the go the best option is the iPhone 4S. While Dragon Dictation on other iOS devices and T9 Trace for Android work beautifully, nothing compares with Siri and the deep integration of nuances technology into the iPhone 4S.
You can get one through Apple, various carriers or here in our Amazon Affiliate Store.
This Holiday Guide is sponsored by