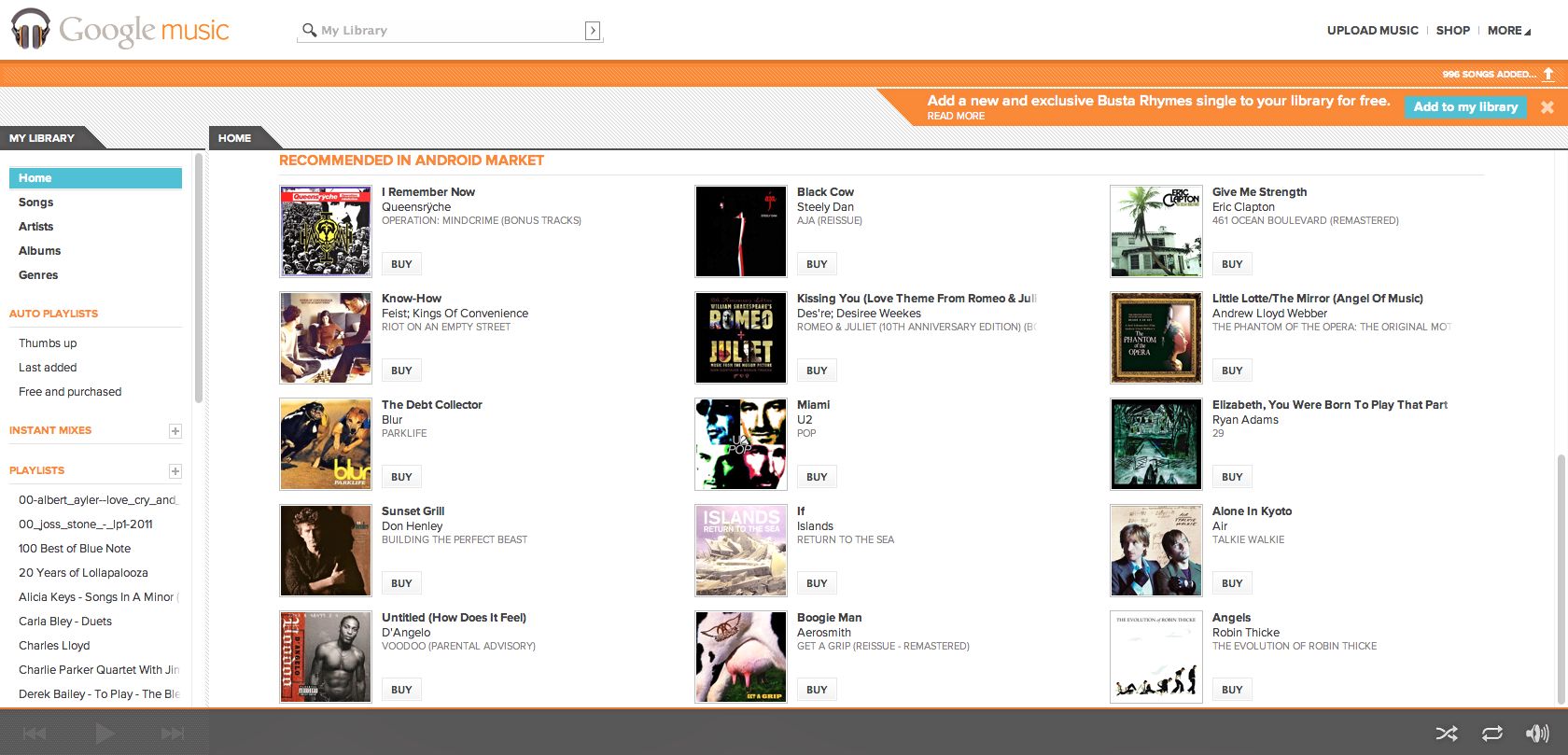 The phrase 'these go to eleven' is from the classic 'mockumentary' This is Spinal Tap, in which the groups amplifiers are described as somehow being louder than standard amps because the knob has a number 11 on it. It is a funny scene, but at its base is deception and clulessness. That in a nutshell sums up Google's Music event.
Earlier this year, Google threw out an embarrassment of a so-called 'Music Service' that had abysmal performance, no features, and existed for a single reason – to get SOMETHING out there before Apple's announcement. It allowed Google to claim that they were competing in the Music space and their fanboys to shout 'first', but in reality was the worst music product ever launched – if it even qualified as a music product. It was poorly performing server coupled with the crappiest mobile music player I have used in ages. Had anyone else released this product … they would have been put out of business by now. But Google caught a break for three reasons: their fanboys and apologists are perhaps the most rabid in the world, they ALWAYS release products in horrifically unfinished state, and they have a better than average record of making good in the end.
So now Google Music is 'out of beta' … which for a REAL company would mean that it is INTO Beta. Because what Google announced last night is … well, laughable. Except for the fanboys, who will tout the Google + integration. Yawn.
Let me just be blunt – EVERYTHING about Google Music is being done BETTER, elsewhere. Facebook Music is better sharing. Artist spaces look great – until you realize they have been around elsewhere for ages and are only distinct until there are a million to wade through (like on Amazon or iTunes). Also, reports are showing that the Google + effort to get companies to make spaces is a total failure. Their store is the worst one available, and so on. The sad reality is that even their upload service and remote player are outdone by Amazon's Cloud Music.
Let me itemize a few things:
20,000 Song Storage – THIS is a huge amount of music, no question. Assuming 5MB per song, that is about 100GB. BUT … Google's Music service locker system is MUCH slower than Amazon or mSpot or DropBox or Apple – it was a major complaint when it launched, and as of last night I saw little improvement. It is a dreadful system pig – and uploading 20,000 songs will take you a very long time. You might be 'home for Christmas' … but your music won't!
Offline music – once you upload your music you can choose whatever you want to be 'available offline' on any device. That means you choose to download it to your device, and later have to choose to delete it to free space. Like Rdio. Like MOG. Like Spotify. Like iTunes. Like EVERY service offering cloud music.
Music Store – let me put it this way: Walmart exited the MP3 business with a MUCH better store than Google. They are lacking ~50% of music compared to Apple and Amazon … heck, they have less music than Rdio, MOG or Spotify! Their music store is crap, pure and simple. Oh, and unlike Amazon and eMusic and everyone else, it doesn't even auto-download to iTunes.
Sharing (destination) – Let's be blunt: Google + is a curiosity populated almost entirely by Android-phone-toting denizens of the Google ecosystem. Twitter has already been shown NOT to be an effective music discovery source, and I will be surprised if G+ is any better, especially given the much smaller scale and scope.
Sharing (source) – You can ONLY share music on Google + that you bought on the Google Music store. Please tell me WHY someone would do THIS rather than just stream over Rdio and have it shared via the vastly superior Facebook Music interface? They don't … and won't.
Free Music – sure there is some. iTunes has a free song ever week and has for 10 years. Yawn. Indie artists regularly give away stuff for free. Wolfgang's vault has better live offerings than what you get on Google Music to stream for free. In other words, yawn.
Here is one important piece of misinformation I have seen floating around:
But wait – doesn't it do what iTunes Match is doing but for free?
NO! They are very different things.
iTunes Match takes the concept of 'iTunes in the Cloud' from your iTunes Music purchases and applies it to your entire music library. So, if I wanted to listen to Pay Metheny's 'What's It All About' (which I bought through iTunes) on my iPad, I would just press play from my music library and it would download and play. Now, with iTunes Match, if I want to play The Yardbird's Greatest Hits, which I had ripped from vinyl but iTunes Match had 'matched', when I press play I get a gorgeous remastered version to play on my iPad. Or, something like Richie Cole's 'PopBop', an out-of-print 1987 CD I ripped last month, I can do exactly the same thing, but it plays the songs exactly as I ripped them.
iTunes is NEVER streaming content, it has just virtualized your music to the cloud. Apple has never allowed a simple 'music locker' system similar to Amazon or mSpot or Google have.
Google Music is similar in that you can play the music from your library. However, your library is EXACTLY what you upload, and ONLY what you upload (until you start buying from Google Music, that is). When you click 'play', a pipe is opened between your device and the Google cloud server, which then streams music as you listen with some amount of buffering.
There are a few major differences: first off, the iTunes Match approach is 'curated' in that whatever is 'Matched' is integrated with the iTunes Music Store library in a way that NO ONE else does. For some that alone is worth the $25 a year. Also, since Apple doesn't stream, music is downloaded and only played once downloaded – but once downloaded there are no further concerns. If you have ever tried 'saving to mobile' while playing something else on ANY on-demand service you know the limitations of the approach Google is using. Also, unless you 'sync to mobile', EVERY time you press play you use bandwidth – to the tune of 50MB or more per album. This will eat through limited data plans quickly.
There is NOTHING that this brings to the table – except for integration to an unproven social service that is a success only withing a very specific group of people (easily categorized as predominantly 20-30-ish, male, tech-savvy, and Android toting).
Some will tout Google Music as 'new' – it is not. Google Music is six months old, and has barely grown – it is the same Alpha level service with a second rate data pipe attached, but now with a mediocre store. There is very little to recommend here to anyone who is a fan of music – head to iTunes for a pricey but end to end solution; to Amazon for a cheaper alternative that integrates with iTunes, their Cloud Player and more; to Rdio/MOG/Spotify/Slacker for socially integrated sharing of a massive music selection.
Head to Google Music because … um … it goes to eleven?
Oh well, here is the press release from Google:
Google Music is open for business
11/16/2011 02:15:00 PM
Last May at Google I/O, we launched Music Beta by Google with a clear ambition: to help people access their music collections easily from any device. Music Beta enabled you to upload your personal music collection (up to 20,000 songs) for free to the cloud so you could stream it anywhere, any time. Today, the beta service evolves into a broader platform: Google Music. Google Music is about discovering, purchasing, sharing and enjoying digital music in new, innovative and personalized ways.

Google Music helps you spend more time listening to your collection and less time managing it. We automatically sync your entire music library—both purchases and uploads—across all your devices so you don't have to worry about cables, file transfers or running out of storage space. We'll keep your playlists in tact, too, so your "Chill" playlist is always your "Chill" playlist, whether you're on your laptop, tablet or phone. You can even select the specific artists, albums and playlists you want to listen to when you're offline.

Purchase and share
We also want to make it easy and seamless for you to grow your music collection. Today, we added a new music store in Android Market, fully integrated with Google Music.

The store offers more than 13 million tracks from artists on Universal Music Group, Sony Music Entertainment, EMI, and the global independent rights agency Merlin as well as over 1,000 prominent independent labels including Merge Records, Warp Records, Matador Records, XL Recordings and Naxos. We've also partnered with the world's largest digital distributors of independent music including IODA, INgrooves, The Orchard and Believe Digital.

You can purchase individual songs or entire albums right from your computer or your Android device and they'll be added instantly to your Google Music library, and accessible anywhere.

Good music makes you want to turn up the volume, but great music makes you want to roll down the windows and blast it for everyone. We captured this sentiment by giving you the ability to share a free full play of a purchased song with your friends on Google+.

Exclusively on Google Music
We're celebrating our launch with a variety of music that you won't find anywhere else, much of it free. There's something for everyone, with a variety of free tracks to choose from:
The Rolling Stones are offering an exclusive, never-before-released live concert album, Brussels Affair (Live, 1973), including a free single, "Dancing with Mr. D." This is the first of six in an unreleased concert series that will be made available exclusively through Google Music over the coming months.
Coldplay fans will find some original music that's not available anywhere else: a free, live recording of "Every Teardrop Is A Waterfall", a five-track live EP from their recent concert in Madrid and a remix of "Paradise" by Tiësto.
Busta Rhymes's first single from his upcoming album, Why Stop Now (feat. Chris Brown), is available for free.
Shakira's live EP from her recent concert in Paris and her new studio single, "Je L'Aime à Mourir" are both being offered up free.
Pearl Jam are releasing a live album from their 9/11/11 concert in Toronto, free to Google Music users.
Dave Matthews Band are offering up free albums from two live concerts, including new material from Live On Lakeside.
Tiësto is offering up a new mix, "What Can We Do?" (feat. Anastacia), exclusively to Google Music users.
Artist hub
Whether you're on a label or the do-it-yourself variety, artists are at the heart of Google Music. With the Google Music artist hub, any artist who has all the necessary rights can distribute his or her own music on our platform, and use the artist hub interface to build an artist page, upload original tracks, set prices and sell content directly to fans—essentially becoming the manager of their own far-reaching music store. This goes for new artists as well as established independent artists, like Tiesto, who debuts a new single on Google Music today.

Starting today, Google Music is open in the U.S. at market.android.com, and over the next few days, we will roll out the music store to Android Market on devices running Android 2.2 and above. You can also pick up the new music app from Android Market and start listening to your music on your phone or tablet today. And don't forget to turn your speakers up to eleven.