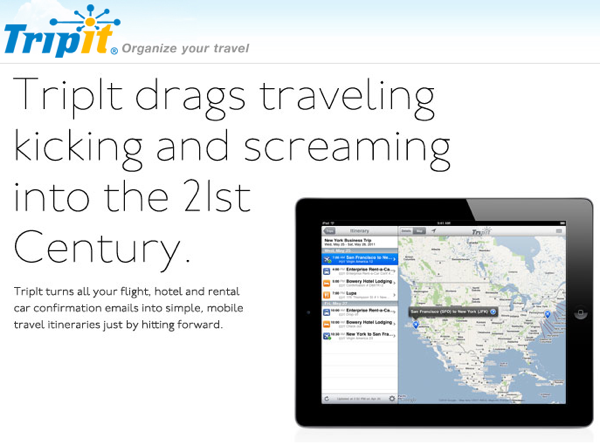 From the Editorial Staff of Gear Diary: If you don't want to give your loved one something tangible this year, why not give them a subscription to a service that will enhance their life? Here are a few suggestions for subscriptions services we love and use on a regular basis …
Tripit: Judie loves it and uses it all the time. Judie turned Dan on to it, and he's now an evangelist for it as well. Tripit is a great way to monitor your travels, keep all in your information in one place, and, with a pro subscription, get real-time updates when your travel plans change. In fact, you may even know about a gate change before it's announced at the airport! We find the service invaluable and especially love the new Pro feature that constantly scans your email for reservations and trip updates so you don't even have to send the documents to the service.
TripIt Pro is just $49 a year.
Amazon Prime: Prime is a prime example of a company adding value to a product without raising the price. I (Dan but it could just as well refer to any of us) am so very impatient that I signed on as soon as Prime became available so that two-day shipping was free. Since then Amazon has added free streaming of movies and tv shows and the ability to "check out" a Kindle book for free each month. It is a great service and getting better all the time.
Just $79 per year. Details can be found here.
Evernote: If you've visited the site more than once you know that some of us are huge fans of Evernote. Dan uses it personally, with his Gear Diary information and has two different accounts that are used at the synagogue. Sure, Evernote has a free version that's actually quite complete in and of itself. But if you want to send large amounts of information to the service, have your documents quickly scanned for optical character recognition search and more getting the professional account for $45 a year is a great way to spend a little bit of money. It makes a great gift and your loved one will thank you for years to come. Get it here.
Streaming Music via RDIO, Pandora and Slacker Radio: There are a number of music services that allow you to stream a wide range of music. Some even let you download music to your iOS or Android device for offline listening. For downloading music from a service we've picked RDIO as it has edged out Spotify for a number of us. For radio we like Pandora. And if you want a hybrid of the two you'll want Slacker Radio. Any of them will increase the music enjoyment that your loved one has and they'll be thanking you long after the gift subscription has ended.
RDIO is $4.99 a month for the web streaming service and $9.99 a month for off-line use on mobile devices. They also offer a family plan.
Slacker Radio offers Plus for $3.99 a month and Premium for offline use for $9.99 a month.
Pandora One is $36 a year.
iTunes Match: It's just $25 a year and if your loved one uses iTunes and have a fairly sizable music collection they are going to love this. Music match scans their iTunes library, matches up those songs that Apple has on its servers and uploads the remaining songs so they are accessible anywhere, anytime, from any Apple device. Learn more here.
Line 2: If your loved one has an iPhone, iPod touch, iPad or android device they are going to love Line2. Line2 lets them turn their device into a phone even if the device isn't a phone. There are two levels of subscription with the higher level giving you a soft phone for the computer and much more. Especially for those who own an iPad, Line2 is a great service since it turns the device into a phenomenal speaker phone.
Standard- $9.99/month or $99.50
Professional- $14.94/month or $149.50/year
Get a free trial here.
XBOX Live: Mike's pick for the gamer in your life!
Xbox LIVE is the online service for your Xbox 360—and a whole lot more. With Xbox LIVE, your TV is transformed into an amazingly connected entertainment experience. Play Kinect™ and controller games with friends wherever they are. Instantly watch HD movies, TV shows and sports, and with Kinect, discover entertainment options that interest you. Just say what you want to watch, and Xbox finds it.
XBOX Live subscription for gamers is just $60/year. Details here.
OnStar: OnStar is more than just an emergency service. Think of it as your concierge on wheels. Dan recently tried it out using the new OnStar FMV rearview mirror (review on the way) and was impressed. And with OnStar FMV you don't even need a GM car!
Plans start at $18.95/month or $199/year Details can be found here.