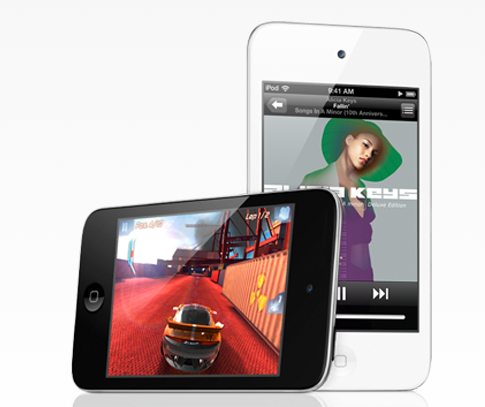 From the Editorial Staff of Gear Diary: Is there someone in your life who loves gaming? If so, here are five gifts with which you can't go wrong.
XBOX360 (or Playstation 3)- not an inexpensive gift, but more and more families are using consoles as a way of gaming, streaming video, and more!
The Xbox 360 250GB Holiday bundle is just $299.99 in our Amazon Affiliate Store.
The PlayStation 3 160GB System is just $249.96 in our Amazon Affiliate Store
iPod Touch – As Mike wrote here, the DS and PSP are fading into the sunset, and more and more high quality games are coming out for iOS devices. The iPod touch is a great gaming device AND a great way to initially jump into the iOS ecosystem.
You can get the White 8GB version for $189.98 in our Amazon Affiliate Store. The Black version is $189.00.
Sharkoon X-Tatic SR Surround Sound Headphones: no matter what gaming console you have you deserve the best sound possible – and that is EXACTLY what the Sharkoon X-Tatic SR Surround Sound Headphones deliver. They are also great if you do your gaming on a PC, Mac, DS or PSP. Check out Mike's full review here.
Grab it for 32.57 in our Amazon Affiliate Store
.
FragFX Shark Wireless controller: If you are a PC gamer like who wants to play with your kids on a console, or if you are a console gamer trying to play on the PC … this is for you! The FragFX Shark Wireless controller is a hybrid controller-mouse setup that delivers the best of both worlds!
Just $89.99 in our Amazon Affiliate Store
.
A Gift Card in $60 increments – the last few weeks have seen major releases such as Battlefield 3, Skyrim, and Modern Warfare 3. It might seem like a good idea to buy your gamer a game, but the hardest of the hardcore already have bought these, and if not … maybe they would rather play something else. You can get your gamer a gift card on Steam for PC games, or on Amazon for everything else. Most top games are $60 each so use that as a guideline and make someone happy!
Splurge- the Alienware m11x: If price is no object but portability is, there is only one choice for the gamer on your list. You can get up to Core i7 power, 2GB high end GPU, fast hard disk or SSD, 11.6″ screen for netbook-like portability, and nVidia Optimus to switch to battery saving mode when possible. Or you can go Core 2 Duo for under $1000.
$989.99 in our Amazon Affiliate Store. With killer specs for $1259 directly from Dell.