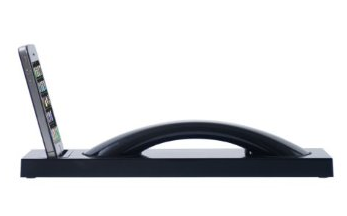 From the Editorial Staff of Gear Diary: There are two kinds of people; there are those who hate Bluetooth, and there are those who love Bluetooth. Okay actually, There are those who hate Bluetooth and there are those who put up with Bluetooth. If your loved one uses Bluetooth, then we have a few great gifts ideas …
First up has to be the JawBone JamBox. This little Bluetooth speaker doubles as a speakerphone thanks to its microphone. It may be small, but it packs a punch. And the audio coming from it? It's surprisingly good. Dan and his wife have one, and they love it. Just $169.99 in our Amazon Affiliate Store.
If your car isn't a late model vehicle that includes Bluetooth audio, then this is a great accessory for you. The TuneLink plugs into the power port and connects to your car's auxiliary audio jack. From there you can stream music your Bluetooth enabled phone over the car's audio system. It's convenient, works well and is a great way to add streaming Bluetooth music to an older vehicle. Here's our review. Just $79.99 here in our Amazon Affiliate Store.
If your car does not have integrated Bluetooth, then you will love the Jabra Freeway. It is by far one of the most advanced Bluetooth speakerphones we have tried.
The Jabra FREEWAY in-car speakerphone makes hands-free calls sound better than ever – and makes controlling them effortless. It is the first in-car speaker-phone to have a 3-speaker stereo system and Virtual Surround sound, which makes the audio crisper, clearer and more vibrant than ever before. And with its dual-mic technology, you can say goodbye to unwanted background noise.

The Jabra FREEWAY is extraordinarily easy to operate. That's because with the Jabra FREEWAY, voices are in control. To start with, voice guidance will talk you through setup and pairing. After that, it will announce the name of the incoming callers, ask if you want to accept their calls and will tell you battery level and con¬nection status. You then simply use your own voice to make, answer, end, redial or reject calls – while keeping both hands safely on the wheel. And there is no need to press buttons to turn the Jabra FREEWAY on or off. It automatically turns on when you get into your car and off when you get out.
You can now get one for under $105 here in our Amazon Affiliate Store.
If your loved one uses an Android handset, you'll want to get them the BlueAnt S4 speakerphone. It is a powerhouse. Here's what the company has to say about it:
S4 TRUE HANDSFREE: With the BlueAnt S4, there is no longer any need to touch your phone or car speakerphone while driving.

For the first time, drivers can make and receive calls on the road using only their voice.

Use Your Voice to Make and Receive Calls: To activate the S4, all you have to do is say the hands-free trigger phrase "BlueAnt Speak to Me" and the S4 will be ready for your voice commands. To make a call, just say "Phone Commands" and the S4 will activate your phone's voice dialing feature.

When the phone rings you won't need to take your eyes off the road to know who is calling because the S4 will read out the caller's name or number and ask you if you want to take the call. All you have to do is say "Answer" or "Ignore".

Hear Your Messages on the Go: The S4 integrates with Vlingo SafeReader so that you can hear incoming text messages read aloud. Once the Vlingo SafeReader application is installed on your BlackBerry® or Android™ 2.x smartphone, your incoming messages will be read out automatically as they come in.

A2DP Streaming: The S4 features integrated A2DP streaming audio functionality, so you can listen to music or podcasts and hear turn-by-turn direction information from a GPS application on your phone.
Just $60 here in our Amazon Affiliate Store.
Why hold your iPhone to your head when you can actually make a call and have a conversation using a far more traditional, and comfortable, handset? That's what Native Union's MM03i Moshi Moshi Curve Bluetooth Wireless Handset and iPhone Dock lets you do. We are in the process of reviewing and really love the fact that it not only lets you use a handset with your phone, but it also has a spot for docking and charging and syncing your iPhone. It's a great accessory and one that is certainly more than a little bit different. $149.95 here in our Amazon Affiliate Store.
If you want music while exercising or otherwise on the move go for the Jabra Sport wireless headphones. They're comfortable, function as Bluetooth headphones, can be used for calls and they're quite comfortable. Dan reviewed them here and uses them constantly since. Just $99.99 in our Amazon Affiliate Store.
Does your loved one have an iPad? An iPhone? How about an Android phone? How about an Android tablet (except the Kindle fire since it lacks Bluetooth)? If so, you'll want to get them the ZAGGkeys FLEX. The ZAGGkeys FLEX is the most flexible Bluetooth keyboard around and it works with a huge number of Bluetooth enabled devices. Check our review, and find ordering information here.
Do you have a favorite Bluetooth accessory that we haven't mentioned in this edition of the gift guide? Let us know in the comments.