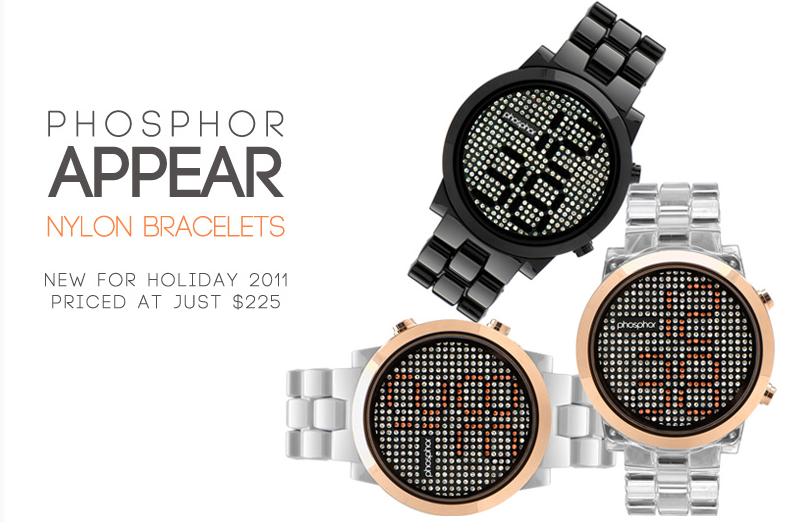 Those of you who held out on buying a Phosphor Appear watch because the leather strap didn't appeal will be pleased to know that there is a new Appear Bracelet watch available. There are four women's watch and band combinations: pink with a pink band, amber with a clear band, amber with a white band, and black with a black band.
As you'll recall, the Phosphor Appear is the watch that features the cool crystal flipping display feature that makes the time or seconds appear in a mechanized manner similar to those flipping train station signs.
You can buy the new Phosphor Appear Bracelet watches online at www.PhosphorWatches.com as well as at select retailers nationwide; the new line will retail for $199 to $225. I can't help but feel fascinated by the amber and clear; it looks like a fun, chunky watch. =)
[showhide]
New AppearTM Bracelet Mechanical Digital Watch Debuts from Phosphor TM

Latest watch from Phosphor blends fashionable nylon band and classic Appear line's mechanical digital technology 

(Dallas – December 6, 2011) – American watch brand Phosphor (www.PhosphorWatches.com) announces today the launch of the new Appear Bracelet watch. The Appear Bracelet is the latest edition to the Appear watch line, which features the world's first mechanical digital watches utilizing Phosphor's proprietary Micro-Magnetic Mechanical DigitalTM (M3D) technology.

Powered by M3D technology and featuring a modern, fashionable nylon band, the Appear Bracelet maintains the classic Appear look with a Swarovski crystal-encrusted time-display and colored crystal time display that revolves to reveal the time. The time can also be completely hidden behind crystals, with the colored, time-displaying crystals reveled again with the push of a button. The basic "time" mode features a 12-hour display, with the hours positioned above the minutes on the face. A "seconds" mode is also available.

"Marrying technology and fashion, the new Appear Bracelet provides an affordable and stylish timepiece solution," said Phosphor's Managing Director, Donald Brewer. "The Appear Bracelet line is a great addition to Phosphor's diverse line of watches, perfect for everyone from grandparents to teens."

The Appear Bracelet watch line is initially debuting with four women's band styles – pink, amber and clear, amber and white as well as black. Phosphor plans to expand the Appear Bracelet line with the introductions of three new men's styles, to be released by the end of 2011. The new watch also features a sleek outer rim of silver or black (depending on the style) and incorporates the classic Appear line's distinctive sound that uniquely marks the passing of time. Other features include a wide viewing angle, low power consumption and water resistance up to 50 meters.

Available online at www.PhosphorWatches.com and at select retailers nationwide, the new Appear Bracelet watch line will retail from $199-$225.
[/showhide]