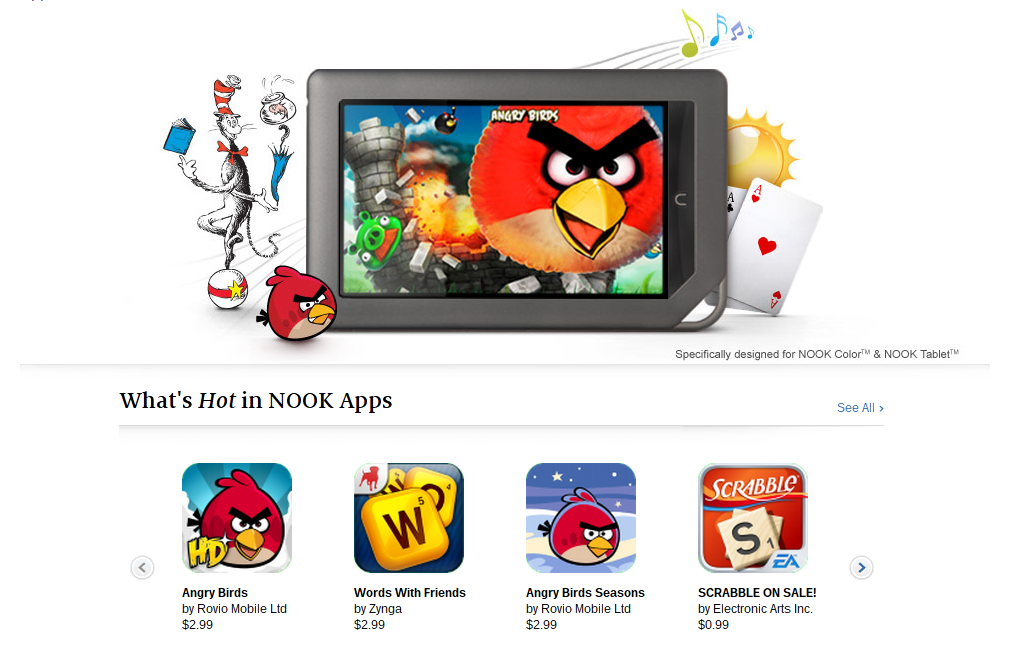 Good news! You can now play Words With Friends on your NOOK Tablet. Bad news…it'll cost you $2.99! Apparently there's no free rides in the NOOK ecosystem, as many apps that are free with ads on bigger platforms cost a small amount on the NOOK. This is a trend we've seen in other "big" apps like Angry Birds, and I think it's more likely to harm than help B&N in building a sustainable platform.
Before I get into my logic, I want to make one thing clear-I have no problem with paying for apps, or with developers needing a way to make money. My issue is that B&N has an Android base to their tablet. They're offering the same exact apps that many of their customers already have on their phones. But you have to pay twice, because B&N's NOOK ecosystem is only based on Android, it doesn't have the full marketplace or experience. And now B&N is actively preventing people from sideloading their own apps onto the NOOK tablet. Basically, here's the deal: if you own an Android phone, you won't have app portability to a NOOK Tablet. If you spend up for a full Android tablet, you will.
Now, the Kindle Fire doesn't have the full Android market either, but Amazon's App Store has a free app each day, a significantly larger selection, AND the ability to also install apps on your smartphone. If you buy an app in the NOOK store, that's it. If B&N wants to create a loyal, app-buying base for their NOOK line, they need to fix this. It's the same operating system as phones, so why not sell NOOK-branded apps for the NOOK for Android app too? It lets them fix their main issue, which is that currently these apps are expensive and silo'd. At least if you can use the same ad-free version of "Words with Friends" on your Droid as you can on your NOOK Tablet there's a better value proposition there!
This only going to become a bigger issue as more apps start appearing. According to B&N's press release below, Plants Vs Zombies and many other apps are coming soon. It's one thing for a free app to cost money, but to pay twice for an app? Personally, I'd skip the apps or root the device, and neither option benefits B&N very much. They need to get this straightened out, and stat!
Do you buy apps from B&N? Are duplicate purchases an obstacle for you? Or do you have a NOOKcolor or NOOK Tablet chock full of apps? Let us know in the comments!
More of the Most-Requested Apps Make NOOK Tablet™ and NOOK™ Color Even Hotter Holiday Gifts

 

Barnes & Noble's Newest NOOK Apps™:

Massively Popular Words With Friends and Soon, Plants Vs. Zombies™ and Twitter

 

Joining Thousands of Favorites Including Angry Birds, SCRABBLE and Netflix are

Office Gamebox, Rock 'Em Sock 'Em Robots™, Jeopardy!, Wreck This App and Many More

 

Free Expedited Shipping In Time for Christmas for All NOOK® Device Orders Today

 

 

New York, New York – December 22, 2011 – Barnes & Noble, Inc. (NYSE: BKS), the leading retailer of content, digital media and educational products, continues to add hundreds of popular, customer-requested new apps, another reason its highly acclaimed NOOK Tablet and NOOK Color devices are among the hottest gifts this holiday season. Building upon its portfolio of NOOK Apps, including Angry Birds, SCRABBLE, Netflix and thousands of others, the company announced the availability of the massively popular Words With Friends today, with Twitter coming soon, along with Plants vs. Zombies and many more to come early next year. New customers unwrapping a NOOK Tablet or NOOK Color this holiday season, as well as the millions of current NOOK owners, can shop for, download and enjoy newly added favorites including SCRABBLE single user edition, Office Gamebox, Rock 'Em Sock 'Em Robots, Jeopardy!, Wreck This App, Magic 8 Ball™ and Doodle Jump Christmas.

In addition to a selection of more than two million digital books, periodicals and interactive children's books, NOOK Tablet and NOOK Color customers can take advantage of a rich collection of thousands of NOOK Apps (www.nookapps.com) in categories including Games, Kids, Travel, Education, Lifestyle & Interest, News & Weather, Social, Productivity and others.  Barnes & Noble offers high-quality apps from leading third-party developers and content providers such as Electronic Arts, Zynga, Rovio, Sony, Mattel, Nickelodeon and more.

"For those who love to read and enjoy playing word and classic games, finding kid-friendly treasures, travel apps and more, NOOK Tablet and NOOK Color continue top holiday wish lists," said Jamie Iannone, President of Digital Products, Barnes & Noble. "Customers can find thousands of popular NOOK Apps optimized for our brilliant 7-inch VividView™ touchscreen to keep them entertained, learning and exploring on our highly portable devices. We encourage holiday shoppers to visit one of our stores to experience some of our incredible apps on our award-winning devices. We'll even gift-wrap your new NOOK device for free."

NOOK Tablet and NOOK Color customers have easy access to a simple, organized way to discover and purchase apps – right alongside their favorite books, periodicals and more, and shop for and download in seconds over Wi-Fi. And there's something for everyone, covering many interest areas. Some of the newest NOOK App additions include:

·         Entertainment: Enjoy movies and TV shows through great entertainment apps such as Netflix, Flixster – which through the UltraViolet™ standard, allows consumers to access their digital movies and TV shows on the go. In addition to the Showtime® app, the new SHOWTIME series, House of Lies will also have its own companion, magazine-style NOOK App called "Stroke Your Genius: Marty's Guide to Management Consulting." For music lovers, there's Pandora®internet radio pre-loaded, and everyone can enjoy millions of songs – including holiday playlists – with Rhapsody®, MOG, Grooveshark and many more. Plus, video rental and download services from leading providers will also be available to NOOK Tablet and NOOK Color customers early next year.
·         Games: Those who love to get their game on will enjoy new additions that include Words With Friends, SCRABBLE single user edition, Jeopardy!, Office Gamebox, Rock 'Em Sock 'Em Robots, Mad GAB, Magic 8 Ball and Doodle Jump Christmas. Other recent additions include Azada, Atlantis Sky Patrol, Serpent of Isis, Roll in the Hole, Spider Jack, Brick & Bubble Revolution, Tower Bloxx My City and Vegas Casino Cruise. Coming soon, customers will also find Plants vs. Zombies and more.
·         Children: Barnes & Noble's youngest customers will be thrilled with new additions including the "I Can Read" app along with O Story Story – Wendy's Giant List, TouchyBooks Moon Secrets, Once Upon A Potty (Boy and Girl versions), Tacky the Penguin, Tacky's Christmas, Pat the Bunny, Biscuit Gives a Gift and more. With Balloonimals, kids can blow into NOOK Tablet's built-in microphone and watch beautifully rendered Balloonimals spring to life and change shape with a shake. Fun apps featuring such well-loved characters as Dora the Explorer, SpongeBob SquarePants and the first-ever VeggieTales mobile app will also be available for the holiday.
·         Travel and Weather: For those planning to travel this holiday season or in the New Year, the free Priceline Hotel Negotiator app will come in handy, along with a selection of 20 TripAdvisor® Mobile City Guides including San Francisco, London, New York City, Amsterdam, Hawaii and more. Random House Living Language French and AccuWeather Platinum are also great new NOOK App additions.
·         Lifestyle: HSN fans can now enjoy making new purchases from their favorite shopping channel straight from the HSN Shop app. Fashionistas will also enjoy Style.com and Taptu Fashion. And the free Cozi Family Organizer is a favorite among busy families. Bring destructive creativity right to your fingertips with Wreck This App. Coming soon, everyone can keep up on the latest news in the Twittersphere via the Twitter NOOK App, and with The Bad Girl's Birthday Book app, keep track of birthdays and other important dates with attitude and style.
·         Seasonal: 'Tis the season for customers to find an extensive lineup of holiday-centric live wallpapers, themes, puzzles and so much more for the whole family.

Among the current bestselling paid NOOK Apps are various versions of Angry Birds, SCRABBLE, Drawing Pad, and Bejeweled 2.  Top free apps include Fliq Calendar, Fliq Notes, NOOK Word of the Day™, Pulse News, Fliq Tasks, Springpad, Fandango Movies, Abbeys Free Decorative Wallpaper and Seesmic.

App-tastic Gifts

Barnes & Noble is making it easier to give the gift of NOOK Apps and other great content this holiday season to friends and family members with NOOK devices. With instant NOOK Book™ gifting, customers can visit www.bn.com to give any NOOK App or NOOK Book as gifts. New content is delivered instantly to recipients on their NOOK Tablet or NOOK Color device. In addition, NOOK Tablet and NOOK Color customers will also be able to apply their Barnes & Noble gift cards – physical or digital – while shopping on their devices.

NOOK Apps can be enjoyed on Barnes & Noble's critically acclaimed Reader's Tablets products, great for people who love to read and be entertained on highly portable device. At just $249, NOOK Tablet is Barnes & Noble's fastest, lightest tablet, with a fast processor and 1GB of RAM for the ultimate app experience. The device also features a built-in microphone, lending more functionality to the immersive NOOK App collection. Apps can also be enjoyed on award-winning NOOK Color, now available at the incredibly low price of $199. With its largest ever software update, NOOK Color just got even better, with access to popular movies and TV shows through leading services, and faster, easier access to the world's largest digital catalog of color and interactive content. Experience new NOOK Apps and devices at the NOOK Digital Shop™ or display in one of Barnes & Noble's more than 700 bookstores across the country, or by visitingwww.nook.com.  For last-minute holiday shoppers, Barnes & Noble offers free expedited shipping on any NOOK order by today, December 22nd at 11:59 pm ET and get your NOOK delivered in time for Christmas at no cost.