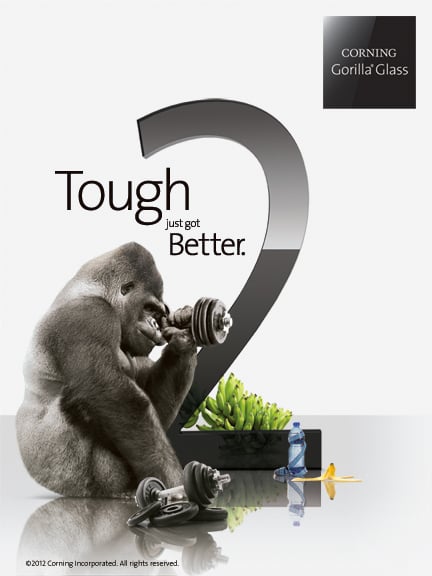 Corning Gorilla Glass has become synonymous with tough, scratch resistant screens that will withstand even some challenging drops that would have destroyed earlier phones. But it is not indestructible, and recently some challengers have come along – and competition is always a good thing.
Next week at CES, Corning is set to unveil the next generation of its strengthened glass product in sizes for smartphones as well as larger formats:
A key feature of Corning's CES exposure will be the introduction of Corning® Gorilla® Glass 2, the next generation of the popular, damage-resistant cover glass for consumer electronic devices.

CES attendees can engage with Corning experts and technologies featuring the latest applications and benefits of Corning Gorilla Glass innovations. "As we did last year, we'll provide consumers and customers visiting the Corning booth the opportunity to test first-hand the outstanding damage resistance and flexibility of this industry-leading, ultra-thin, and tough specialty glass," Steiner added.
You can read the full press release from Corning.
Full disclosure: I am employed by Corning Incorporated.