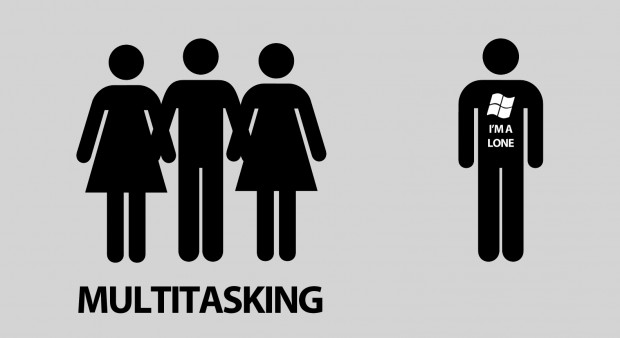 … and according to some developers the problem is that only 40% of the user base has updated to Mango!
WMPU (Windows Mobile Power User) noted the multitasking shortage last week:
Fast Application Switching, otherwise referred to as multitasking, was a new feature added in Mango. Three months later, and you still can't use this feature most of the time!

The sad truth is that only 30% of the top 20 apps in the Marketplace support multitasking. To make things worse, 19 of those 20 games are endorsed by Microsoft themselves. The top 20 free apps are quite better, but still not acceptable, with 20% not supporting Mango.

With so few games supporting Mango, responding to text messages is always a pain. The entire Windows Phone experienced is ruined for me when I have to sit there for 10 seconds waiting for a game to resume. For those who think: "10 seconds, quit whining", consider that many people will respond to a text, go back to their game, play for maybe 60 seconds, respond to the reply, play again, respond…. those 10 seconds add up quickly.
Back in late September when Windows Phone 7.5 Mango arrived, much press was given to how quickly it was available for ALL Windows Phone 7 devices – within two weeks including dealing with a technical issue one carrier was having. But what has NOT been reported was how many people actually applied the updates – I think most assumed it was happening as quickly as Apple's iOS 5 … but apparently not. And even in the case of iOS 5, the last documented market share break-out was ~40% after a few weeks on the market.
But one of the commenters on the post noted that even after three months adoption of Mango was pretty thin. Here is his comment in full:
I manage a WP7 app in France which is in the top 5 of its category and i made some stats end of december. OS usage is as following:
30% pre-nodo
30% nodo
40% mango

Who wants to change its app to a Mango-only app and lose 60% of marketshare ? no one. When Mango was announced, Microsoft first said that upgrading your app in the Marketplace would just cut you down from all the non-Mango users, which was plainly stupid. Then they said, ok you can have two versions in the marketplace, but:
- Nothing in the SDK helps you to manage different code with the same source files.
- You can only have installed either the 7.1 SDK on your computer, or the 7.0 SDK. So for a developer to manage two versions, he needs to have two computers (written here http://msdn.microsoft.com/en-u… " If you are building an application that you want to run on both Windows Phone OS 7.0 and Windows Phone OS 7.1, you can do your initial testing on the Windows Phone Emulator 7.1. But to test an application for Windows Phone OS 7.0 compatibility, you must test on a Windows Phone OS 7.0 device or install the Windows Phone SDK for Windows Phone OS 7.0 on another machine. The two versions of the tools will not run side by side.").

So let me be clear: i can understand that Microsoft wants to push everyone to install the newest version of its OS, but since it just doesn't work, they have to help the devs to manage this fragmentation like Google and Apple does already.
If true, this puts Microsoft in a very tough position – their market share continues to drop was Windows Mobile finally dies off completely in companies and Windows Phone is slowly adopted. But if people are not updating phones, then as noted developers will be hard pressed to update apps (Twitter just got its FIRST update of any time … more than a year after release), and as a result people will be less likely to move to the OS – it is a vicious circle. Add to that the fact that any updates need to make an app Mango compatible, you have less incentive to update the app if the adoption of Mango is truly that low.
Strangely I have been unable to gather any solid evidence of ANY of this stuff regarding market penetration of the various Windows Phone 7 versions, aside from the basic info about how few 'top selling' apps use multitasking.
What do you think? Does Microsoft have an upgrade-rate issue that is crippling their already anemic app presence? Or is that French developer working with a non-representitive data set? What does any of this mean for the future of Windows Phone? Do you think it will take off in 2012 as some project, or is it already past its peak?