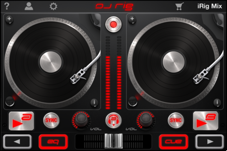 The DJRig for iPhone is not your average DJ spinning tool for a smartphone – IK specifically calls out what makes it 'competitive' with existing apps … and also where it simply blows away the competition!
Here are some of the 'expected' features:
• Direct access to iPod library and playlists
• Automatic fast BPM detection with OnTempo™ auto-sync technology
• Drag and zoom of waveform display
• Deck controls: Volume, Pitch, 3-Band kill EQ, headphones and cross fader
• Automatic looping: create loops with tempo divisions always on the beat
• Live recorder allows recording of the full mixing gigs
• Supports all major audio formats including MP3, AAC, WAV, AIFF
• Landscape and portrait interfaces
• Customizable deck interface
Here are some of the 'Pro Grade' features:
• Effects deck with XY touch interface and 12 effects: Delay, Flanger, Crush, Filter High Pass, Filter Low Pass, Filter Band Pass, Compressor, Wah, Phaser, Fuzz, Reverb, Stutter
• X-Sync mode detects the BPM from external audio sources in real-time and automatically syncs the tempo of internal decks to external devices
• On-the-fly sampler with 4 banks of 9 pads with 10 pad sound banks plus expandable high-quality sample libraries and live sampling functionality
• Accurate scratching engine modeled on real deck behavior with CloneDeck™ technology, for scratching with cut-to-the-beat for professional results
• 4 visual cue points per song
• 3 crossfader curves available
• Auto level-detect and adjustment of the volume for each song to always create the perfect balance between decks
• Crossfade EQ allows fading between decks with bass or high filters for perfectly smooth transitions
• Multiple output configurations to work with any kind of audio setup
Pricing for DJ Rig is tiered but is actually pretty simple:
The 'Regular' version will cost $9.99 and include ALL of the 12 available effects and 10 pad sound banks. If you decide to check out the 'Free' version first, you get 6 effects and 1 pad sound bank … but can then upgrade to the complete 'Regular' version for the same price! They are working on a Universal version that will be released shortly after the main release in February.
Now wouldn't it be wonderful if they had a hardware mixer to help power this app?