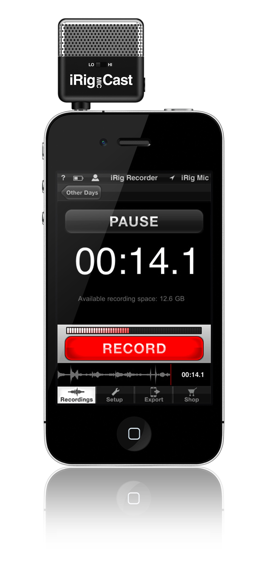 The iRig MIC Cast looks to take the excellent capabilities of the iRig Mic and condense it into a tiny unit that plugs right into your iPhone (or iPod Touch or iPad). It is intended for voice recording of all types, and features a specialized unidirectional microphone and noise reduction circuitry to enhance recordings of all types. It is the sort of thing I wish I had during a particularly noise conference call last week!
Here are some of the features:
• Features a stereo mini-jack headphone output which enables real-time monitoring of what is being recorded using headphones or speakers.
• Offers a mini-switch that provides two different sensitivity settings to record close-up or distant sources.
• Includes an adjustable desktop stand for convenient iPhone/iPod touch positioning during recording.
• Has a bumper-friendly mini-jack connector that fits the majority of iPhone/iPod touch cases.
• Has an ultra-compact profile that can be carried anywhere with ease.
• Like other IK Multimedia microphones, it includes 2 free apps: iRig Recorder, an easy-to-use voice recording/editing app, and VocaLive, a multi-effects processing app for singers.
• Works with all regular phone calls and any Voice-Over-IP app.
• Is compatible with iPhone/iPod touch/iPad.
Pricing is set at only $39.99 and will be available in the first quarter 2012 from electronic and music retailers around the world.