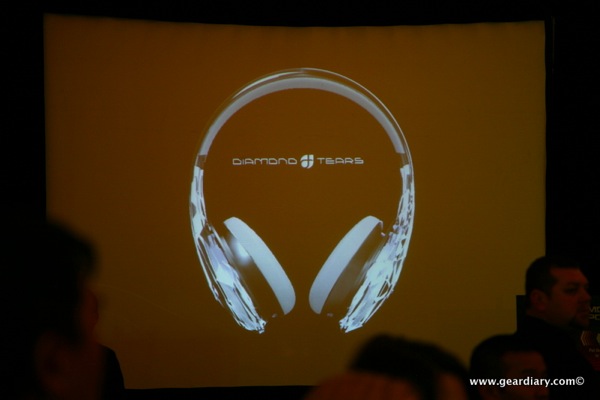 We started the day at the Monster Press Conference. The first big news was that, unsurprisingly, Monster Cable is now simply Monster. The reason, quite simply is that Monster's offerings have expanded significantly in the past few years. The move is reminiscent of Apple Computer become simply Apple when they found more and more of the product line to not be specifically computers and computer-related items. It made even more sense once they began speaking about their new products, the focus of which was far from the company's cable roots.
"Join the Revolution" was the theme for the presentation with a range of new and evolutional products.
Monster Power: The company is introducing new products to their Monster Green Family. Their GreenPower Plus technology monitors and changes the power draw of devices and saves energy in the process. They have also created an app that will work with the hardware controllers they will be selling. Working with PeoplePower, the company that is creating the apps that allow for remote control of the power system the goal is to reduce the vampire current drain of various devices as they continue to draw power even when are not in use.
Monster Power Control Application lets you monitor and analyze power usage. It also lets you turn power off remotely and, if you prefer, it can be programmed to turn off devices at set times of day. For example, one could tell the system to turn off power to the entertainment system from midnight to 8am each day. As a rest, for those hours the system would not draw any current. That eliminates vampire drain and saves money. The system can also be set to have home and away modes that can be controlled remotely via a smartphone or tablet app.
The system will be coming out this March and I have a feeling I will be one of the early adopters.
Monster Digital: A new company for memory products is being launched. The memory market is a 10B market and Monster wants to be part of it. Their line will offer products that are waterproof, magnet-proof, shock proof and temperature resistant. More news to come as the products begin to roll out.
Audio: In the audio department, a department that has become increasingly important to Monster, they have a lot happening.
Monster Micro: The market that is currently dominated by the JawBone JamBox is seeing an increasing number of potential challengers. The Monster Micro is small, thin and packs a punch. The speaker offers voice command and control and is described as the "smallest, portable high definition" speaker available. The company spend time focused on the fact that the Monster Micro has "personality". You can change the color, the overall look and even the voice, although the demonstrated voices were not too impressive. It will be $229.
Wireless Home Audio: The company will be coming out with a system that allows for an uncompressed stream of audio. No wifi or Ethernet will be required for it to work and the entire system will be controlled from your computer via a unique Monster media player that gets loaded onto your computer.
Headphones: The biggest news for Monster today was in their ever-growing headphone market. They announced new partnerships with Earth, Wind and Fire as well as LiveStrong Today is the 15 anniversary of the founding of the LiveStrong Foundation and, as the representative of the foundation explained, "I'm a cancer survivor and when I was going thought treatment music was a huge part of my journey…" As such the partnership is a potentially powerful and productive one.
They will also be partnering with Nick Cannon and releasing a series of products that are "well priced and accessible for youth".
N-ergy: These are in-ear headphones that have a magnetic connection between earpieces. This lets the owner wear them as a fashion accessory when not using them. They will be $69.
N-tune: These are on-ear headphones and will sell for $129.
Fashion Headphones: Monster is also looking to build on the "headphone-as-fashion" market that they have been creating. They have partnered with Diesel to create new headphones with a unique shape that makes them stand out. The headphones, "they look great and they sound great too".
Another collaboration yielded the Diamond Tears headphones pictured above. The company says, "it is like wearing diamonds on your ears". Personally I was not impressed but there just might be a market for them.
I'm a big fan of Monster's headphones. They look and sound great and the iSport waterproof headphones I shot a review video of in the shower some months ago continue to be favorites of mine. That noted, when I saw the company's last new headphone design, the Inspiration, I could not help but think they have gone and jumped the shark more than a bit. The Inspirations are intended to "inspire you through both music and fashion".
The headphones have interchangeable headbands that can be purchased as separate add-ons. As they said, "You can change the headband to fit your fashion and mood". On their own it is an interesting concept as it potentially creates an additional revenue stream after someone has made the initial headphone purchased. At $29 a pop the bands could be quite profitable if they take off.
But when the bands with metal studs, feather and more began to appear I had to shake my head just a bit.
In all, Monster has a lot going on. They have revised their name, added new product lines and expanded existing ones. Not everything we saw at the Press Conference impressed us but enough did and I applaud a forward looking company that is willing to take some risks with their offerings.