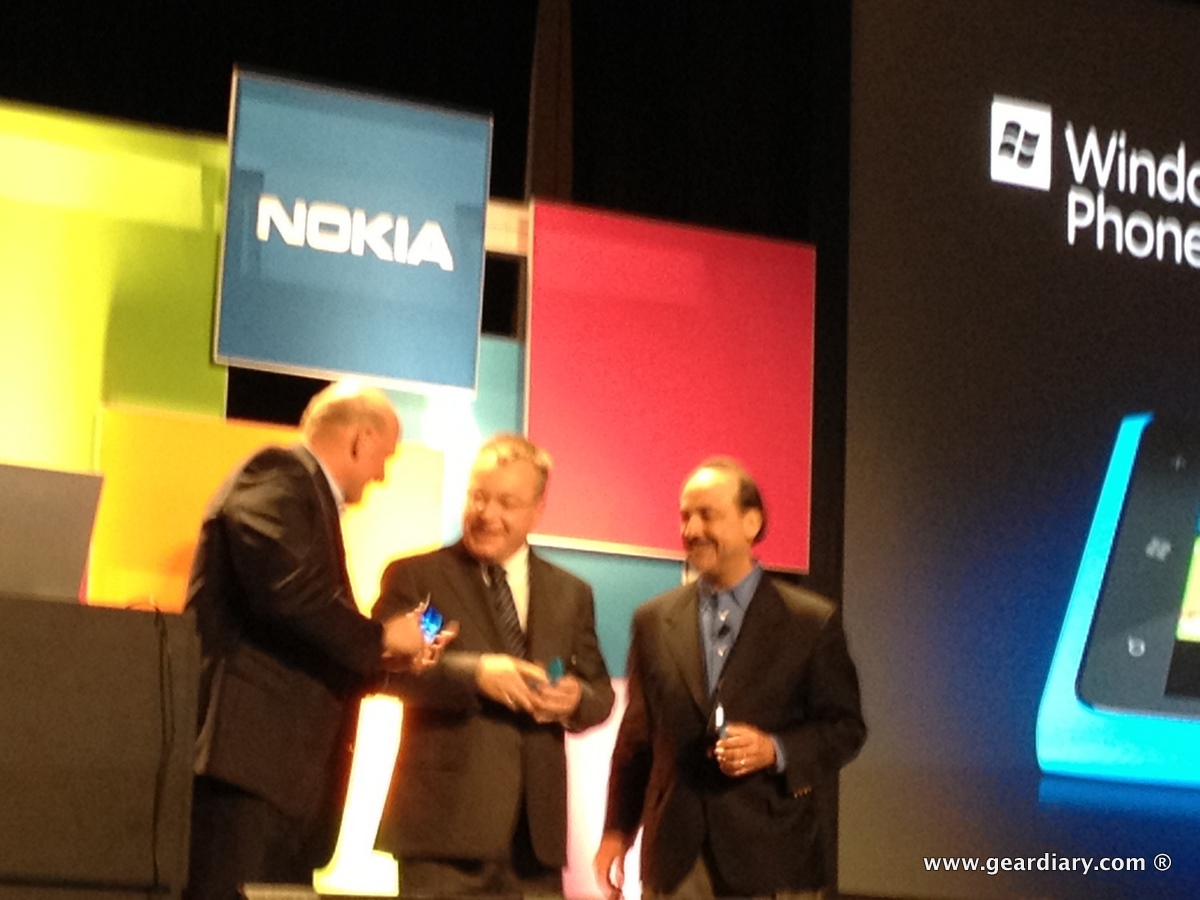 This afternoon I attended a standing room only event in the impossibly small Ballroom A at the Venetian. The purpose was to hear about Nokia's latest announcement for North America, and what I was hoping for specifically was news that the Lumia 900 (the North American version of the Euro Lumia 800) would soon be available. I wasn't disappointed.
The front of the room was decorated with color tiles on the wall reminiscent of the live tiles in Windows Phone 7; if there were any doubts about what we were there to see, these should have removed them.
Stephen Elop, President and CEO of Nokia, came out and mentioned the first pillar of their global strategy –the Asha line of phones (global phones, not US centric) and discussed the consumer response that has them very pleased. The second pillar is the Lumia Windows phone, the direct product of their new partnership with Microsoft.
Mr. Elop said that he feels consumers are responding very positively to the Lumia line, its design and the operating system. Nokia launched the Lumia 710 on T-Mobile January 10th (reviewed by me, here); the Lumia is aimed at the heart of Nokia's new strategy, "the intent is to establish a series of beach heads in this war of ecosystems."
And now Nokia will also be offering the Lumia 900, Nokia's first LTE smartphone on AT&T; it will be available in black and cyan blue. It will have a 4.3″ AMOLED display, and 1830 mAh battery, and Carl Zeiss optics with f2.2 large aperture and wide-angle lens; it will also have a front facing camera with an f2.4 aperture lens wide-angle lens. Why is that important? Because it means you can get more into the picture without having to back up.
Kevin Shields, the animated guy that I couldn't help but poke fun at from the last press conference, came up to explain the phone in more depth. He didn't shout this time as he touted the Lumia 900′s true black display and mentioned how it is built on the base of the N9 and Lumia 800 with a polycarbonate body. Some of the other highlights include:
People Hub: Integrates all of your social networking services into one historic view.
ESPN Sports Hub: brings all of the sports info into one
CNN App: Specially designed for Windows Phone and Nokia, with special attention paid to iReporter.
"Bold beautiful balanced design that brings out the best of Windows Phone … standing out from the rest of the smartphone crowd."
Stephen Elop came back out on stage to mention that Nokia's partners already include ESPN, CNN, Univision, EA, Sesame Street, Michelin and ACC  (atlantic coast conference). He further went on to say that Nokia and Windows are working together to build a better Nokia/WIndows experience and ecosystem.
And then … Surprise!
Stephen Ballmer came out and said how excited Microsoft was about the Lumia 900; he went on to say people should "pick up, touch, feel and mmmmm love [their] Lumias." Seriously!
Ballmer congratulated Nokia and said how excited he was to introduce the Lumia 900 to North America.
Next Stephen Elop introduced the president and CEO of AT&T, Ralph de la Vega, who came out and near immediately said, "Nokia is going to be back in the US in a very big way!" followed by ,"Windows Phone is truly built around people, and not applications."
After a quick photo-op moment where Elop, Ballmer and de la Vega were all seen holding their Lumia 900s and Stephen Elop announced that the Lumia 900 would be available on AT&T in the coming months, de la Vega and Ballmer high-tailed out of there.
Then it was Q&A Time with Stephen Elop:
Q. Any plans to expand to other carriers?
A. No additional carrier announcements today, but the intention is to reach as many people as possible in the US market
Q. Pricing?
A. Price and timing to be determined. Intention is to enter the US Market with the Lumia 900 aggressively.
Q. When will we see lower-end Windows Phones in the US
A. Very specific plans to push the prices down with a broad range of devices in lower price ranges.
Q. Storage plans to expand the Lumia 900 to 16 or 32GB?
A. No plans, but we are working with cloud storage and considering people's needs.
Q. Any plans to expand Nokia's availability in other countries?
A. Working on broad availability everywhere Nokia products are currently sold.
Q. Where is the content from Nokia Drive coming from?
A. Navteq, which was acquired by Nokia several years ago.
Q. Why no Near Field Communication on the Lumia 900?
A. NFC is growing in importance, and will be introduced over time.
I got to handle a Titan today, and I have to admit that it will be a tough decision for me to decide between the Titan II and the Lumia 900; I plan on buying a Windows phone in the next few months, and both phones look large, lovely and bold. Do you have a favorite?