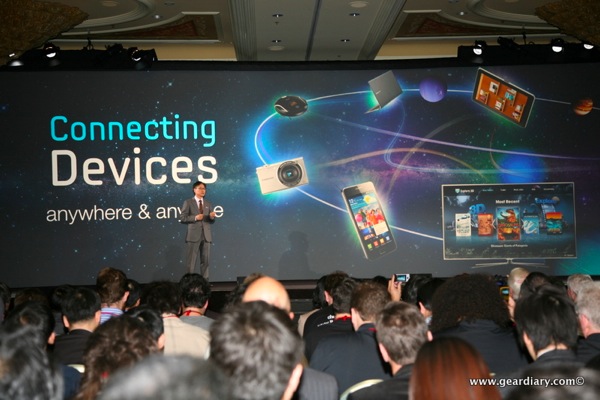 Samsung's Press Conference brought news of some great evolutionary products. We waited in line for hours just to hear what Samsung had to share. It was worth the wait. Here's a look…
2010 was a great year for them but 2012 is shaping up to be even better.
They sold 2 televisions per second in November, had total sales of mobile phones was over 300 million for the first time and were once again #1 in North American refrigerators.
The company sees their role as "making the consumers life simpler, smarter and more enjoyable." To do this they "need to push forward and break the boundaries between devices." They went on to explain that connecting devices to one another is a perennial theme of CES but Samsung, with its huge number of different offerings is in a position to connect more types of devices to one another. That is when they got into specific areas and product lines.
Televisions:
The heart of the Samsung ecosystem is the TV. It plays "a premium role in bringing families together". Samsung is updating their offerings with Smart interaction, Smart content and Smart evolution
Smart interaction: Samsung televisions will be able to listen, see and do what you want without having to touch a remote
Smart content: Samsung televisions will let you share memories and other common media from tv to personal devices , and access kids programs, health services etc
Smart evolution: Samsung will continue to invest heavily in 3D tvs.
Samsung SmartTV will continue to get smarter without you having to purchase a new tv to get the new abilities
Tim Baxter President of Samsung America then came on stage and said, "Samsung is delivering the future of Smart TV today. We are breaking down the walls between discrete devices".
They are focused on three areas: Content, service and connectivity.
Content: broadening offerings on the Samsung content services
Services: increasing the services they offer
Connectivity: working more and more on the underlying technology.
In 2012 Samsung SmartTV's come in sizes up to 75″, many have an integrated camera and more. The idea is to let you watch or do what you want when you want to do it. As Baxter said, (and I LOVE this line) "watching TV 'by appointment' is a thing of the past".
Apps: The app environment has grown tremendously. There are 25,000 companies now developing apps for SmartTVs. When it started there were just 500.
Media Hub: Is already on phones and tablets and will not be on tvs
Content partners are giving the company more access to content than ever
3D: Since 2010 they sold more than 12 million 3d tvs. This year 60% of SmartTV models will have 3D.
Content: From the content perspective they are working with NBCUniversal to make popular tv shows like Battlestar Galactica available in 3D.
And, of course, Angry Birds will be coming to Samsung Smart TVs this year. (Opinion: overplayed and overkilled)
New Signature Services: The company is adding content via their new Signature Series
Family Story lets families add notes and images from mobile device and upload to the tv
Health Service let you track your health progress.
Kids service let parents track and manage what kids watch
Technology:
Smart Interaction: Samsung SmartTVs will now let you connect and interact with your tv using voice, gestures and face.
Face recognition feature logs each user into their own profile
API will be open to developers to let them take it even further
FutureProof: Samsung is the worlds first company to offer future proof tv. Starting in 2012 a slot will be at the back of the tv will let tvs be updated once 2013 comes around.
They then introduced their flagship 55″ super AMOLED tv.
It is a gorgeous with a slim bezel and a new u-shaped stand.
And the tv has built-in camera and microphone
It has a dual core processor
Of course it is 3D
Connectivity:
Last year's Allshare let people share content through a home network
Allshare Play uses the cloud to allow content sharing not just in the same network but everywhere
Digital Imaging:
Taking pictures isn't enough anymore. People want to share those pictures instantly. Smart Cameras and camcorders let them do that and this year Samsung is doubling down on the connected camera market
The flagship WB850F has great specs and will even let you use a smartphone to focus and shoot the picture remotely
Auto backup automatically sends pictures to your PC
You can even email the pictures straight from the camera
Smart Appliances:
Samsung kicked off the smart appliance market last year with an app connected refrigerator. They are extending it this year with a new app connected washing machine. (Me: Why???)
Samsung Smartphones and Tablets:
Smartphones:
The big news on the smartphone front was the Galaxy Note. It will now be released for the US market in an LTE version for AT&T.
It has a 5.3 super ambled screen and a stylus that really works.
I got to play with the UK version of it while waiting for the Press Conference thanks to the guy sitting next to me.
It is fast, has an amazing screen and really impresses. S Memo had me wanting one… badly!
The company also announced the Galaxy tab 7.7. It also has a super-AMOLED screen and will run on Verizon's LTE network.
Laptops:
Samsung Series 9 notebook
Boots in 9.8 seconds
Wakes in 1.4 seconds
Runs up to 10 hours per charge
2 1/2 lbs and just half an inch thick
Single shell aluminum body with a sandblasted surface that prevents fingerprints
A model with a 15″ screen just has a 14″ body
It is 1/2 thick and just over 3 pounds
Ultrabook:
New market they are exited about
14″ has a DVD drive with "a host of ports"
Series 9 monitor
All connections are in the base of the display
In all what Samsung had to share was evolutionary rather than revolutionary, but this is one evolution that looks great! The company has a clear strategy and they are well on the way to fulfilling it… and then some.