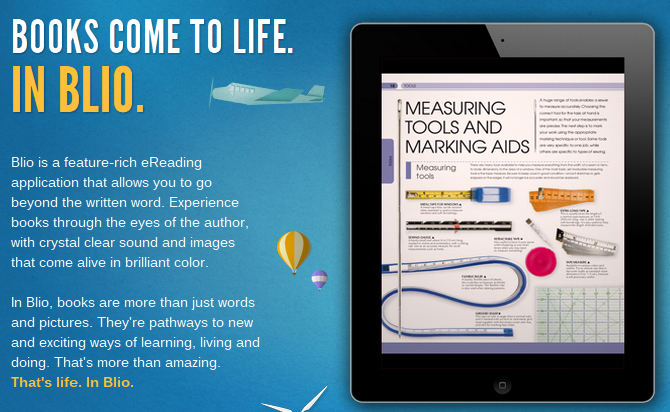 Remember Blio? It's ok if you don't. Blio debuted at CES two years ago, and promptly disappeared off the radar as a serious threat. Don't forget, CES 2010 was the ebook gold rush, and history has shown that anything not labelled "Kindle" or "NOOK" turned out to be fool's gold. But the folks behind Blio are convinced they still have a fighting chance, and they've set their new sights on Ultrabooks.
From the press release:
Baker & Taylor, Inc., the world's largest distributor of digital and physical books today announced an agreement with Intel, the world leader in computing innovation, to provide a comprehensive ebook solution for Ultrabook devices through Intel® AppUp(SM) center. "We are thrilled to be chosen by Intel to deliver its ebook platform, which will showcase popular and enhanced ebooks in an ultra-responsive, elegant way. Ultrabook devices are the next step in mobile computing for consumers, providing a portable, sleek device for readers to enjoy their favorite ebooks," said Bob Nelson, president of Baker & Taylor's Digital Group. "Through our agreement with Intel, we can deliver a versatile ereading experience and rich, interactive digital content on a truly innovative device."

Through its partnerships with thousands of publishers worldwide, Baker & Taylor will provide a fully merchandized bookstore that includes best-selling titles, as well as children's books, textbooks and lifestyle books, such as travel and cookbooks, many with integrated full-color, sound effects and multimedia. This bookstore will feature the Blio ereading application, developed by K-NFB Reading Technologies, founded by technology visionary Ray Kurzweil. Ultrabook users will have at their fingertips the content they want and the interactive features and functionality to more fully engage their ebooks.
I'll be honest-when Blio debuted I was underwhelmed, and I think that two years later it's a tough time to try to break into the ebook market. Textbooks are an area that's ripe for digitization, but tablets seem like a better fit than laptops for that market. Reading on laptops in general is a niche, but more power to Blio for still trying. I look forward to seeing what they bring to ebooks, and hope to see their offerings expand quickly!
For a refresher, here's a video on Blio:
Life…in Blio from Blio eReader on Vimeo.
If you've purchased or plan to purchase an Ultrabook, let us know if you use Blio!