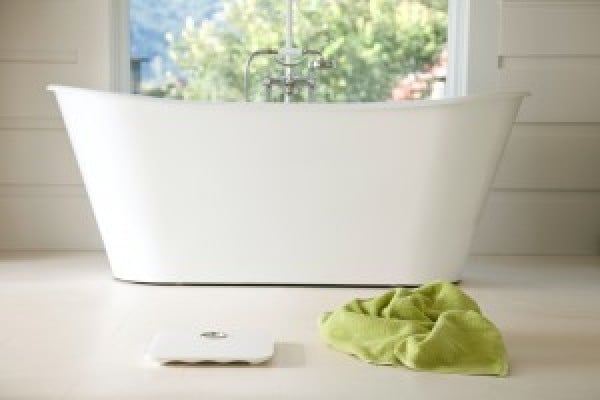 Dan and Judie may be facing off to see if the Fitbit truly reigns supreme at CES, but Fitbit isn't stopping with just your everyday activities. They're also announcing a new scale that syncs over wifi right to your Fitbit account! One of the toughest things about losing weight and keeping track is actually doing the data entry and work. Fitbit is aiming to make it as easy as possible for you!
From their blog:
We're excited to let you be among the first to learn about our newest product — the Fitbit Aria Wi-Fi Smart Scale.  Aria will accurately track your weight, % body fat, and BMI over time and sync your weight data to your Fitbit.com account through your wireless network.  Online charts and graphs will track your weight and body composition over time to help you understand exactly what's happening to cause any bumps in the road.

The Aria was inspired by you, our customers.  Many of you asked for an easier way to track weight.  We did just that and more.   Because the Aria syncs through your Wi-Fi, your data is automatically sync'd (no more numbers to input).   You can invite up to 7 other household members to create their own accounts with the scale, but only you will be able to see your measurements, even with those in your household.   And the scale is smart enough to recognize who you are just by stepping on it, so no need to worry about your information ending up in the wrong place.
Sounds very cool, and a great complement to the Fitbit Ultra! You can pre-order now, and it will ship in April for $129.95. Now stay tuned to Gear Diary for more CES news, as well as the outcome of the Fitbit/Striiv battle!