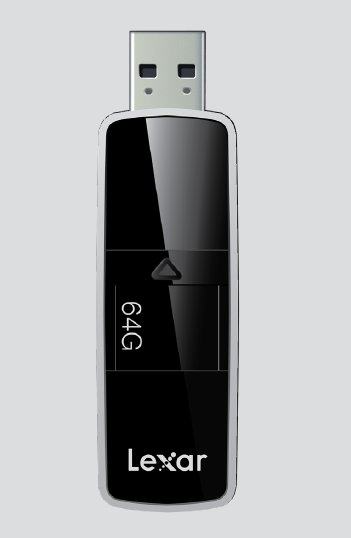 My new laptop finally has USB 3 in a couple ports and now Lexar finally has releases a couple new flash drives that may help me fill my USB 3 ports.
First up is the new JumpDrive Triton model which boasts itself as one of the fastest USB 3.o flash drives available.
The new JumpDrive Triton is more than 20 times faster than standard USB 2.0 flash drives based on benchmark tests, offering 155MB per second read and 150MB per second write speeds for exceptionally fast and reliable downloading and transferring of content. Available in 16GB, 32GB, and 64GB capacities, JumpDrive Triton is the premier, high-performance offering in the Lexar line of USB 3.0 flash drives.
The JumpDrive Triton is available in two sizes.  The 16 GB is$79.99 and 32 GB is $124.99.  No pricing for the 64 GB model yet but it slated to arrive in February.  Both 16 GB and 32 GB are available now from Lexar.
If the Triton is too rich for your blood, then Lexar also has the new S73 line of USB 3.0 flash drives.
Provides users with an economical solution for storing and transferring important files faster than standard USB 2.0 flash drives. Offering read speeds up to 45MB per second and write speeds up to 20MB per second, the Lexar JumpDrive S73 is available in 8GB (blue), 16GB (purple), 32GB (orange), and 64GB (green) capacities.
Sizes range from 8 GB all the way to 64 GB and they will be available in February from Lexar.