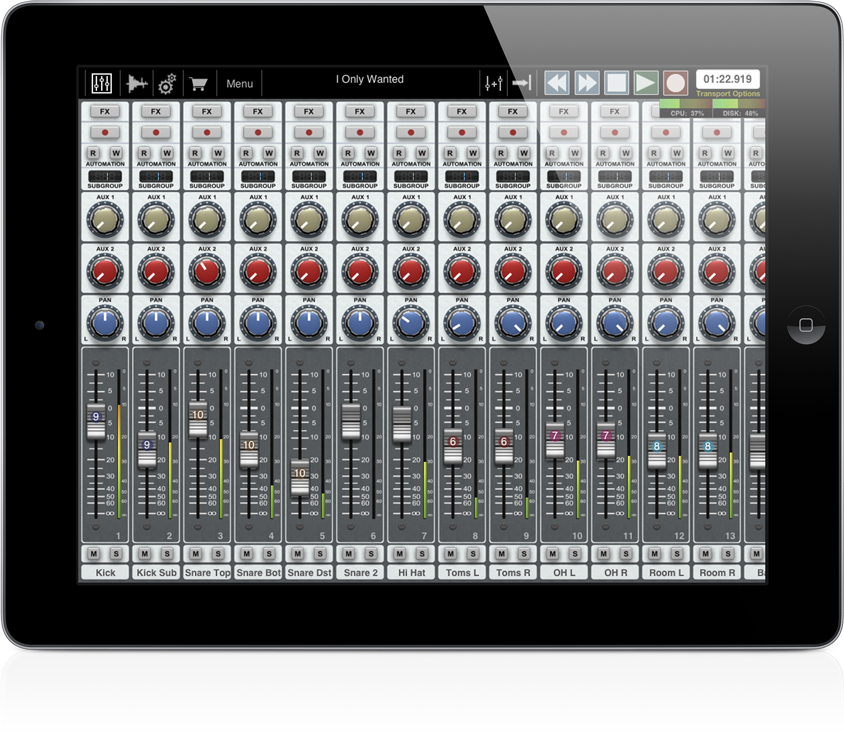 I see announcements for new iOS apps and games pretty much every hour on the hour. While I am thrilled at how many great apps come out every week, every now and then there is something that strikes me as the 'Awesome App of Awesomeness' and I just have to let you know. Today that app is Auria from WaveMachine Labs. How awesome does it sound? It costs $49.99 and I consider it a 'must have' for anyone serious about music production on the iPad.
Here are details:
WaveMachine Labs, makers of the popular Drumagog drum replacer plug-in are proud to announce the debut of their latest iOS application, Auria, at the 2012 Winter NAMM show in Anaheim, California. Booth 6905

Auria is a 48 track digital audio workstation designed exclusively for the iPad. Built from the ground up to be used in professional studio and live tracking applications, Auria includes the necessary tools for recording, mixing, and editing any project. Auria introduces innovative features such as AAF import/export for moving sessions between popular DAWs (like Pro Tools and Nuendo), 64-bit double precision architecture, and up to 24 tracks of simultaneous recording using compatible USB audio interfaces.

WaveMachine Labs has teamed with PSPaudioware to offer a powerful vintage-inspired channel strip on every channel, plus a mastering processor on the master and subgroup channels. Auria also features a first among mobile apps – VST plugin support; Auria includes several bundled plugins (convolution reverb, stereo chorus and delay, classicVerb and a pitch processor). Plug-ins by PSPAudioware, Overloud Audio Tools, Fabfilter and more will be available through in-app purchase. WaveMachine Labs is pioneering the effort to develop the VST standard on iOS, allowing manufacturers to easily port their existing plugins to the iPad.

* Up to 48 tracks of simultaneous playback (iPad 1 limited to 24 tracks)
* 24 tracks of simultaneous recording (requires compatible USB Class 2 audio interface and Camera Connection Kit)
* 64-bit double precision mix engine
* VST plug-in support (iOS format only) with optional plugins available through in-app purchase, including effects by PSPaudioware, Fabfilter, and Overloud
* PSP ChannelStrip with compressor, EQ, and exp/gate on every channel
* PSP MasterStrip features mastering EQ, bus compressor, and limiter
* Fully-featured multitrack editor with sample accurate editing
* Convolution reverb with included IR responses by MoReVoX
* AAF Import/Export – allows transfer of sessions between many popular DAWs, including Pro Tools, Nuendo, Logic, and Digital Performer
* Complete mixer automation including all plugins
Auria is due out during the first quarter of 2012 for $49.99.
Here is a video of Auria in action:

Head to WaveMachine Labs to see all of their products or check out the Auria product page for all the details!