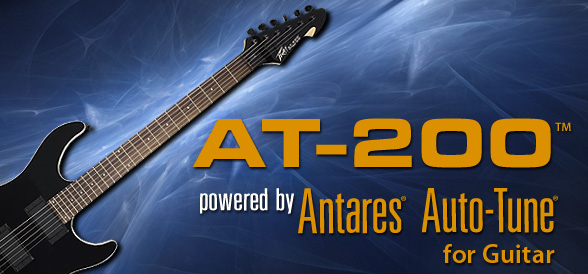 While for many the term auto-tune brings up horrifying thoughts of T-Pain and Katy Perry's severe lack of natural talent, the actual applications are pretty cool when applied correctly. For example, I have been watching old rock videos a lot lately, and you know the biggest problem: tuning! You constantly see someone tweaking a tuner mid song trying to get things right – yet it seldom it. The other issue is intonation – making sure that the string length ratio is maintained over the entire fretboard. Applying electronics seems like a perfect solution – and that is what Antares has done!
Here is their description:
- Instant String Tuning

With Auto-Tune for Guitar, you can tune all six strings instantly with the push of a button (no motors or gears required). Simply strum the strings, trigger String Tuning via a button or foot switch, and your guitar is instantly in tune.

- The Solid-Tune™ Intonation System

Less-than-perfect intonation muddies a guitar's tone. But by using the Auto-Tune for Guitar's Solid-Tune™ Intonation system, the Parker Auto-Tune MaxxFly constantly monitors the precise pitch of each individual string and makes any corrections necessary to ensure that every note of every chord and riff is always in tune, regardless of variables like finger position or pressure. As a result, listening to a guitar with Solid-Tune is a revelation, offering a purity of tone that has simply never before been possible.
At NAMM this week we see the first two guitars to take advantage of this technology, one from Parker and the other from Peavey.
Parker:
Autotune MaxxFly
The Autotune MaxxFly is our DF842 MaxxFly equipped with Antares® Auto-Tune technology. It features a 22 fret fingerboard enabling precise placement of the neck pickup for that classic neck-position tone. An HH pickup configuration has been utilized for the wide palette of tones that today's guitarists demand from a high end instrument. Pickup mounting has been improved to allow players to swap out the included Duncans with the pickup of their choice. The addition of Auto-Tune makes the Autotune MaxxFly the most advanced guitar on the market today.

Features
•Antares® Auto-Tune technology
•Carved Alder body and Basswood neck
•Parker custom-cast aluminum vibrato bridge, stainless steel saddles
•HH Pickup configuration
•Seymour Duncan® SH1 neck TB4 bridge pickups
•3-way mag pickup selector
•Custom Graphtect® Ghost piezos and pre-amp
•Custom Parker vibrato system
•Sperzel® Trim-Lok™ tuners
•5 lbs.
Pricing and availability were not given. Visit Parkerfor more info or to find a dealer.
Peavey:
The Peavey AT-200 is also the gateway to a growing collection of powerful new Auto-Tune for Guitar features. With its built-in software upgrade capability, new features from Antares can be easily loaded into the AT-200 and controlled by any MIDI source, from MIDI foot switch controllers to iPad or iPhone devices running dedicated Auto-Tune control software.

Combining Peavey's 47-year legacy of innovation in music and audio with Antares' history of creating game-changing audio technologies is a natural partnership, said Peavey Electronics founder and CEO Hartley Peavey.

"Peavey has always been a 'different' kind of company, one that is driven by the desire to innovate and advance the possibilities in music and audio, while serving players and professionals with attainable, quality products," said Peavey. "Partnering with Antares to bring their revolutionary Auto-Tune technology to guitars is the gateway to the next generation of music creation. As always, we're proud to be leading the way."
Pricing was not given, but a July 2012 availability was announced. Visit Peavey for more info or to find a dealer.