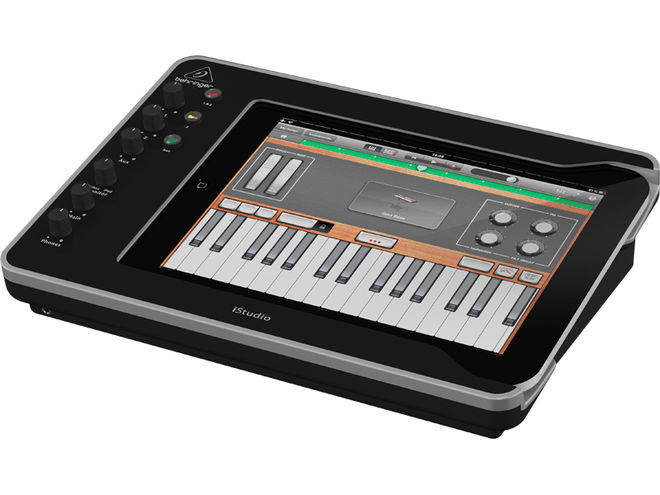 Last week I wrote about the cool looking series of iPad music docks from Alesis introduced at the NAMM trade show, and now over the weekend we got news of competing iPad IO docking systems. Both offer a variety of cabling interfaces to get the most out of that powerful iPad in a musical setting!
Let's take a quick look!
Griffin Technology StudioConnect and MIDIConnect
Griffin is actually bringing TWO new Connect products – one is a simple MIDI interface and the other is a fully featured audio dock that also includes MIDI. Here are some details from Griffin:
MIDIConnect joins Griffin's GuitarConnect Pro in providing compact, go-anywhere input solutions for iPad, iPhone or iPod touch. StudioConnect is the ultimate tracking, editing and overdubbing companion for GarageBand. The desktop unit serves as an all-in-one interface for audio, MIDI-In and MIDI-Out as well as a charging dock for the iPad device.

"GarageBand has put powerful audio production tools within reach of any musician with an idea and an iPad," said Mark Rowan, President of Griffin Technology. "We've made it easy to connect your real instruments with GarageBand and control every aspect of your project."

The multipurpose StudioConnect for iPad combines both audio and MIDI (Musical Instrument Digital Interface) recording into one compact device that also simultaneously charges the iPad. StudioConnect takes recording music on the iPad to an entirely new level giving aspiring musicians a chance to produce professional sounding recordings.

With StudioConnect the audio in and out is simple:

Audio In – Complete with its own gain control. Plug in your instrument through a mono 1/4″ jack or plug a mixer into StudioConnect's stereo 3.5mm jack.

Audio Out – Left and right line-level RCA plugs. Also a 3.5 mm stereo headphone jack with its own volume knob helps monitor what's going in and out.

MIDI in and out is equally straightforward:

MIDI In – Connect your MIDI controller through a standard 5-pin DIN MIDI-in port.

MIDI Out – A second 5-pin DIN connector accepts a sequencer, sound module or other MIDI gear, allowing your iPad and favourite MIDI apps to act as a MIDI controller.

Specifically for MIDI, Griffin's MIDIConnect adds a MIDI input and output to iOS devices. It's easy to use, and allows you to plug MIDI keyboards and other MIDI-capable devices into an iPad, iPod touch or iPhone. Use it to play your MIDI instrument straight into GarageBand or other popular MIDI apps. Both MIDI in and out ports are industry-standard 5-pin DIN connectors, compatible with most commonly-available MIDI cables and connectors.
The pricing is excellent as well – $79.99 for MIDIConnect and $149.99 for StudioConnect when they come out this year (StudioConnect is slated for February and MIDIConnect for 'spring'). Head to GriffinTechnology.com for more info (not updated with these products as of right now).
Behringer
Behringer has a load of new stuff including cool DJ equipment my son loves … but what really caught my eye was an iPad dock with a tremendous set of features: iStudio. Here are some details:
New from BEHRINGER, the iSTUDIO iPad Docking Station is the perfect music production tool for both home studio and live recording. So much more than just a convenient way to recharge your iPad, iSTUDIO lets you create, produce and perform music using your favorite audio gear and musical instruments. iSTUDIO also includes two phantom-powered Mic/Line inputs (one switchable for Hi-Z inputs such as electric guitar or bass, no DI required), so you can use studio-grade condenser mics for stunningly professional results.

Professional iPAD Docking Station with Audio, Video and Midi Connectivity

Universal Docking Station for APPLE iPAD and iPAD2
Connect your microphones, instruments and audio sources to virtually any audio/MIDI app with the iSTUDIO
Core Audio/MIDI compatible for use with any iOS App
Versatile I/O functionality with adjustable headphone output and direct monitoring control
Separate Video output for connecting your iPAD to TVs and projectors
Standard MIDI I/O plus USB-to-host connectors for ultimate MIDI connectivity
iPAD powering and battery charging via the iSTUDIO dock
Ergonomic design layout – all control elements on top panel with headphone connector on front
Slide-in access for mating with iPAD dock connector (suitable for iPAD 1 & 2)
Locating holes for BEHRINGER P16-MB mounting bracket to attach iSTUDIO to a standard mic, music or drum stand (P16-MB not included)
Universal switch-mode power supply with country-specific wall socket adapter included
High-quality components and exceptionally rugged construction ensure long life
The thing I love about this is the tremendous set of connections shown in the image above. You have microphone inputs, MIDI in/out, USB for MIDI, foot pedals and audio outputs. You even get a video out, though I think HDMI would have been a better choice here.
One thing that Behringer has done to differentiate the iStudio is put a host of controls right on the front panel to help you interact with apps like GarageBand.
Pricing wasn't announced with the press release or on their site, but in the video below the speaker annouces it at an excellent value of $149.99! I was amazed that a company with such a quality reputation as Behringer released products at such attractive prices at NAMM across the board! This puts the iStudio ~$10 less than the discounted price on Amazon.com for the Alesis IO Dock.
Head to the Behringer site for more info!
Here is a quick look at the iStudio: