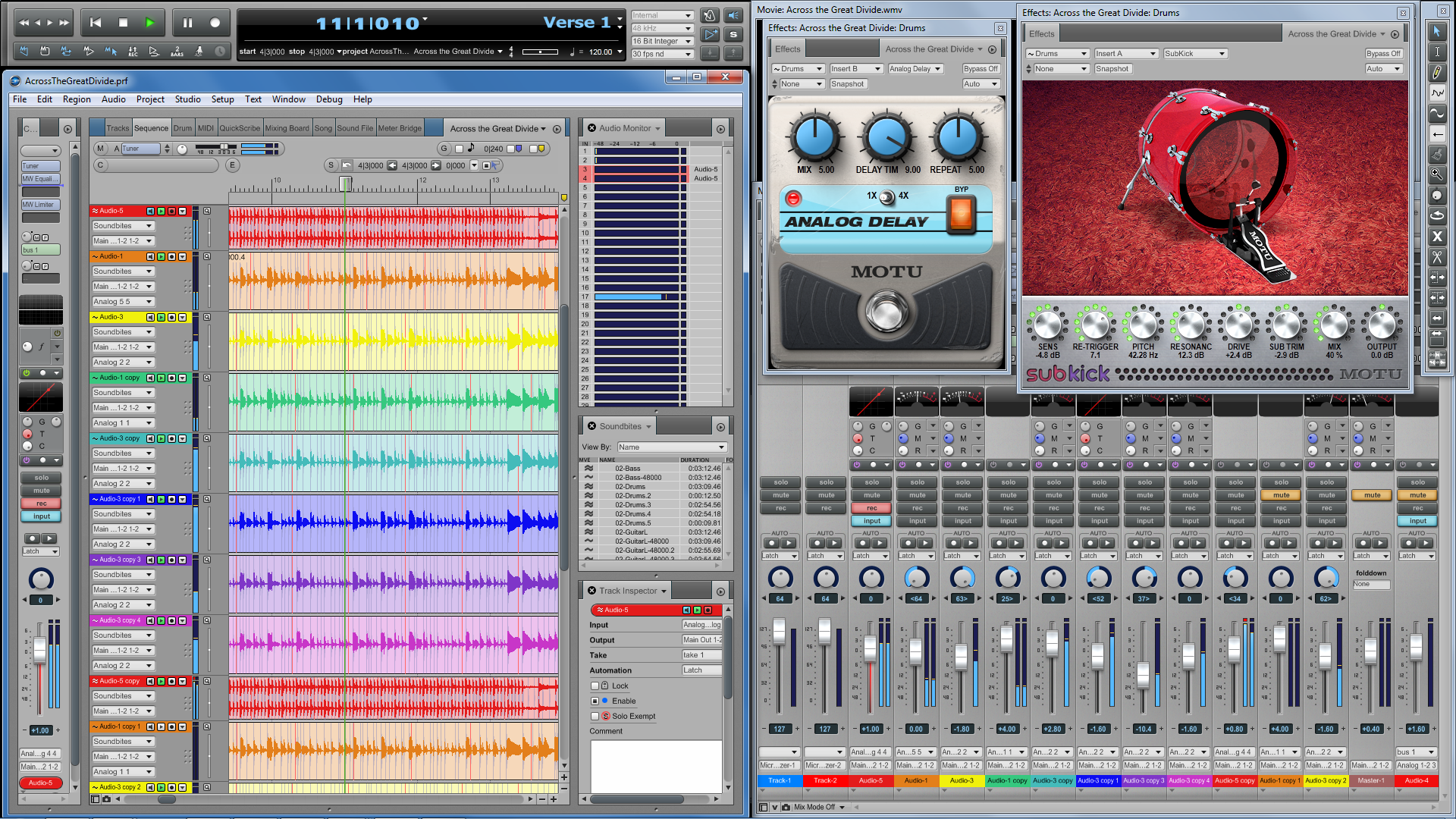 Way back at the dawn of MIDI in the very early 80′s, I started learning about controlling digital instruments using arcane control bits using the fresh communications standard called 'Musical Instrument Digital Interface'. The following year I took my first class in 'computer music'. The studio setup was a massive mess of wires and re-tooled Prophet V's and so on … and one little Macintosh computer. The program? Performer by Mark of the Unicorn (MOTU).
Through the years Performer has been a constant companion – it was the one thing that kept me on the Mac in the mid-90′s until CakeWalk matured enough to be a workable PC solution … and one of the first things I bought when I came back to the Mac several years later. But by then Performer had been retired as the company focused on the broader Digital Performer product. Originally introduced as a high end version of Performer encompassing digital audio as well as MIDI, soon computers were powerful enough and audio recording pervasive enough that it made sense to have only one focused product.
Fast forward to 2011, and I have been enjoying Digital Performer 7 on my Mac, it remains extremely powerful – but also remained Mac-only. No one was surprised that NAMM 2012 brought Digital Performer 8, as most software companies have moved to a more frequent update cycle.
However … the news was much bigger than expected: Digital Performer version 8 now supports Windows 7 in 32 or 64-bit mode. There are other cool features including some high-end audio functionality, better video support, more included plug-ins, and more UI control via themes.
Here's what's new in Digital Performer 8:
Punch Guard records an extra four seconds of audio before and after record passes, allowing users to edge-edit in/out points to "uncover" audio material accidentally cut off during recording. DP8's new video engine allows full- screen viewing of full 720 or 1080 HD video clips on a primary or secondary computer monitor, or on a conventional HDMI or SDI video monitor connected to a MOTU video interface such as the HD Express or HDX-SDI.

Digital Performer's Themes allow users to change the entire look of the software with one click. DP8 adds 14 new themes, including "Hi-Fi", "Arctic", and "None More Black".

MOTU demonstrated 15 new plug-ins to be included with DP8, including two new classic guitar amp models, a bass cabinet model, several classic guitar pedals, modeled analog delay, a multi-band dynamic equalizer, a de-esser, the Subkick kick drum enhancer, and Springamabob, a modeled vintage spring reverb processor.
Digital Performer 8 is expected to ship by Spring, 2012. Pricing wasn't announced, but it is safe to assume that they will offer Windows users upgrades from previous Mac versions, cross-grades from competing Windows products, and straight purchases.
I know there are some Mac users who think this is a 'bad thing', but given how extremely well the Mac is doing I am not worried about a shift. If anything the internal competition and having to race against FL Studio and others means that MOTU will have to work harder than ever – and customers will win!