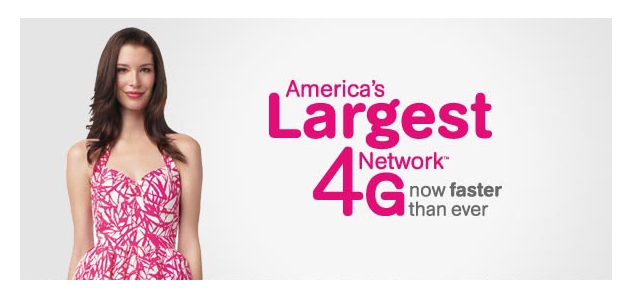 Image Courtesy T-Mobile
Today is a good day for T-Mobile customers. This morning the FCC listed the filing for a $1 billion transfer of Spectrum from AT&T to T-Mobile. This pretty much means to the common consumer that T-Mobile will be getting some more bandwidth to grow their GSM network. If you followed the deal last year, you know that AT&T promised a few billion in cash as well as some spectrum to Deutsche Telekom as payment if the takeover did not occur. As we all know late last year AT&T pulled their bid for the #4 US mobile provider leaving them responsible to pay the German based company reparations for a failed deal. It's doubtful that the FCC will have any issues passing this filing for the transaction this time around. After sitting through months of hearings and legislation, they offered a large amount of resistance and are partially responsible for preventing the $39 billion acquisition from taking place.
"This additional spectrum will help meet the growing demand for wireless broadband services," said Tom Sugrue, T-Mobile's senior vice president for government affairs, in an emailed statement. "We hope the FCC will move swiftly to approve the license assignments."
Personally I am quite happy that the merger did not go through. I was formerly an AT&T customer and was not happy with customer service or cellular service and as a result moved over to T-Mobile. For the past few years I have been enjoying competitive data speeds, great coverage (NE Philly Area) and generously low monthly bills. Some may have been looking forward to the merger for the increased coverage and larger support, but now we get the best of the deal and none of the potential negative changes if AT&T were to buy them and start collecting our money. Some say that it was the only way for T-Mobile to grow and eventually adopt true LTE for the future. As for now I am quite happy with HSPA+ coverage which often times is faster than some markets LTE service anyway. I'm sure it will take some time for subscribers to notice any change in coverage, or potential data and voice upgrades, but be rest assured that AT&T is probably grumbling the entire time while filling out the FCC documents to complete the transfer.