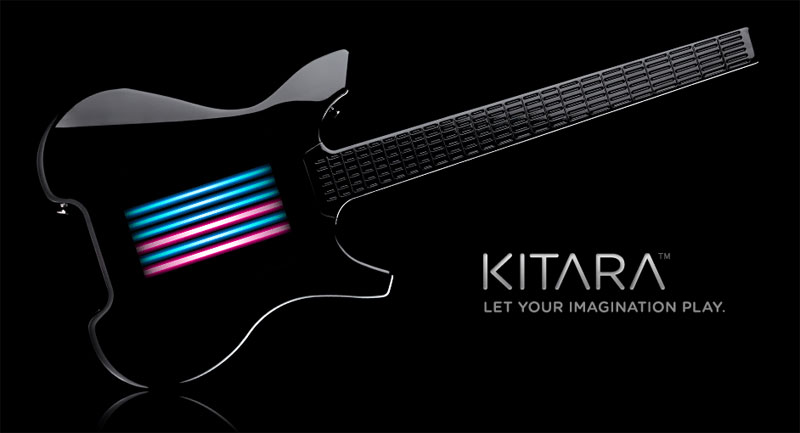 Last year we were amazed at iTar concept that promised to turn your iPad into a guitar. While that product has yet to ship, in the fall the concept was made reality by the cool and innovative Misa Kitara Synth Guitar – which is a fully digital instrument that utilizes the iPad as a core part of the instrument.
So naturally there was a line forming to This year at NAMM we had not one, not two but THREE eerily similar new iPad-based guitar instruments. None have strings, all stick the iPad in the string area, and are functionally fairly similar. Here we go!
ION Audio Announces the iPad-Based Guitar Apprentice
ION Audio has a reputation of making lower priced consumer electronics including musical instruments, acting as maker in some cases and distributor in others.
Guitar Apprentice is Core MIDI compatible – so it should work with dozens of iPad music apps, including GarageBand.

Features:

Full-scale guitar body with strap pegs
Fitted iPad holder with 30-pin dock connector
Lighted fretboard and free guitar-teaching app* teach you basic guitar skills
App includes built-in effects: distortion, reverb, flanger delay and more*
Built-in speaker with volume control – play anywhere!
Access to iPad headphone input for silent practice
Works with GarageBand and dozens of popular iPad apps
Core MIDI-compliant
Here is a demo video for the Guitar Apprentice:
ION Audio has more details.
Behringer Introduces the iAxe iPad-Based Digital Guitar
True to form with the observation of DBMurray last week, Behringer has joined the 'me too' train as well with the iAxe Guitar!
A second dock located on the headstock area allows the player to read music or lyrics from an iPod or iPhone while playing.

iAxe ships with a variety of apps, designed for learning how to play the guitar and recording. But it is described by Behringer as an 'open platform'. Unfortunately, the company has not provided official details on whether that means it works as a standard MIDI controller or not.

"With the iAxe Guitar, I wanted to make a product that introduces everyone to the lifelong pleasure of making music by not only providing instant musical gratification but to also guide and grow the musician's talent toward becoming a sophisticated guitar player," said CEO Uli Behringer.

"The iAxe Guitar uses the power of a tablet computer and the creativity of our partner developers to become a truly open platform for musical expression."
Read more at Behringer.
Misa Announces Kitara Era, Scaled Down Version of Original
Finally Misa, maker of the Kitara announced a scaled down version called the Era that loses the synth engine but keeps everything else. Here are some details:
It follows the same basic design of the Misa Kitara tablet guitar synthesizer, but drops the synth engine.

Features:

24-fret neck with tactile buttons, instead of strings;
Touch-sensitive rectangular pad that responds to three axis of movement (X/Y and velocity).
MIDI-out and USB MIDI
Internal rechargeable battery
1024 x 1024 touch panel
Upgradeable firmware
The Misa Kitara Era is priced at $399. Availability is to be announced. See the Misa Digital site for details.

Note: The unofficial demo below, is showing the original Kitara being used as a MIDI controller. No official demos for the Kitara Era are yet available
Head to Misa Digital for more details!