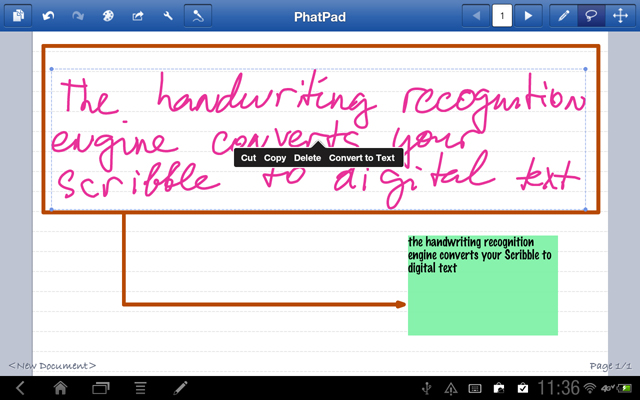 If you have been around PDAs since the Windows CE days, you know that one of the earliest and best app makers was PhatWare, bringing Calligrapher, PhatPad and other apps to a variety of platforms for nearly 15 years. Now they make the next leap, bringing PhatPad to Android – and making the files compatible between iOS, Android and the older Windows Mobile devices as well! Here are some of the details:
PhatWare today announces the launch of PhatPad for Android, a note-taking and collaboration app featuring PhatWare's proven handwriting recognition technology. PhatPad, which has already gained a significant following among iPad users, now will turn an Android Tablet or Smartphone into an advanced brainstorming tool by enabling users to draw, write, and type on the Android device, then instantly share ideas via email, WiFi, and Dropbox.

PhatPad's key features include:

• Smooth-flowing digital ink technology which lets Android tablet and smartphone users scribble notes as if they are writing on real paper
• The ability to combine drawing, handwritten text, images, and digital text on the same document page as well as voice notes to create media-rich content
• A powerful handwriting recognition engine, which automatically converts handwritten notes into text
• Document sharing using Dropbox synchronization, PDF, WiFi, and email
• Voice notes – record, play, and use in presentation mode
• Scroll, zoom and variable page size
"The beauty of PhatPad as a note-taking, collaboration and brainstorming tool is that it allows users to draw pictures, jot notes, or put a mixture of pictures, drawings, handwritten and typed text on a virtual scratch pad," said Stan Miasnikov, president of PhatWare Corp. "PhatPad's handwriting recognition engine allows users to convert previously recorded handwritten notes into digital text, and edit text using either the handwriting input panel or the keyboard."

With a version of PhatPad also available on iPad devices, PhatPad documents can be shared between iOS and Android platforms. PhatPad for Android is also compatible with older PhatPad for Windows file format (.pmi) allowing to open legacy documents.
Head to PhatWare for more details!
The normal price for PhatPad is $7.99, but as an introductory offer PhatWare has it on sale for $4.99 on the Android Market! Grab it while the great deal lasts!