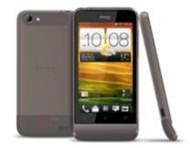 HTC is at Mobile World Congress and just announced their new HTC One series. It brings a new design and enhanced camera and sound to a line of brand new devices. The HTC One devices combine impressive specs and sleek designs with HTC Sense 4 on Google's Ice Cream Sandwich platform.
The camera is one of the main areas of focus for the line. With phones from the line you'll be able to grab your first shot in just 0.7 seconds and a new 0.2-seconds autofocus lets you make sure you don't miss the moment. In addition, HTC One
delivers dramatic enhancements in image capture quality even in adverse conditions such as low light, no light or with bright backlighting. The f/2.0 lens on the HTC One X and HTC One S offers best-in-class performance, capturing 40 percent more light than the f/2.4 lenses available on other high-end phones. HTC One also includes HDR, a market-leading technology, for taking great photos even when there are varying levels of brightness.
There's much more that turns the HTC One into a great camera including, Video Pic (Concurrent Video/Still Capture), Dropbox integration and a host of ways to share your pictures and video.
The line also focusses on enhancing the sound coming from the phones. In fact, with HTC One,
Beats By Dr. Dre Audio™ integration is enabled for the first time across the entire experience for richer, more authentic sound whether you're listening to your favorite music, watching a YouTube™ video or playing a game. HTC One also makes it easy to get and listen to your music on your phone with the built-in HTC Sync Manager software that automatically installs to your computer when connected. Once connected, it is easy to transfer songs, artists and playlists from your music library.
Here's a rundown of the new phones.
The HTC One X is
a multimedia livewire. It features a best-in-class 8-megapixel camera with the new HTC ImageChip to ensure that you capture quality photos in less than ideal conditions on its dazzling 4.7 inch HD super LCD display. The camera is packed with advanced effects and scenes such as Smart Flash and Burst Mode. Pictures can also be pulled from the HTC One X's HD 1080p video recorder, both during and after shooting.

With HTC Sense 4, Beats™ Audio is a universal setting, so you can enjoy enhanced sound in music. Access to AT&T's speedy 4G LTE network paired with a 1.5 GHz LTE Qualcomm Snapdragon S4 processor permits the HTC One X to deliver unparalleled Web surfing, streaming and downloading speeds. The HTC One X will be available on AT&T in the coming months.
The HTC One S is
HTC's thinnest phone yet. Sophisticated and compact, it is still the ultimate hub for entertainment with its stunning 4.3-inch qHD AMOLED touchscreen display. Enjoy studio-crisp sound with Beats™ Audio as a universal setting – hear the difference with movies, games, and other applications. With access to T-Mobile's HSPA+ 42 Mbps network paired with Qualcomm's 1.5 GHz Snapdragon™ S4 dual-core processor, The HTC One S delivers an incomparably zippy experience.

Ultra-sleek and lightweight, the HTC One S camera packs the same punch as the HTC One X, containing an impressive f/2.0 lens and a backside-illuminated sensor to capture every moment with astounding quality. The addition of the HTC ImageChip delivers photos on your mobile like never before. The HTC One S will be available this spring from T-Mobile USA.
Finally, the pocket-friendly HTC One V
utilizes a classic HTC design to provide a high-end smartphone experience for a broad appeal. The simple unibody design exudes the craftsmanship and quality that HTC is known for.
The HTC One series will begin shipping in April with prices announced as the launches draw closer.  For more information and to pre-register for HTC One visit www.htc.com.