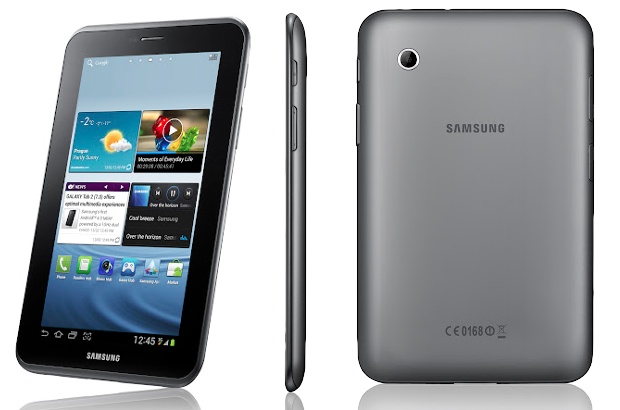 As we have said many times, the so-called tablet market is really an iPad market, or put more broadly it is 'iPad … and everything else'. As of the end of the year it became 'iPad and Kindle Fire … and everything else'. First among the 'everything else' is the Nook Color and Tablet. Next is Samsung, whose Galaxy Tablet was the first serious challenger to the iPad just over a year ago.
Anyone who used the original Galaxy Tab knows it was a solid product – decent performance, reasonable features, and a decent camera with flash. Nothing amazing, but a solid 7″ tablet. Several of us at Gear Diary got one, though none of us kept them for all that long. During 2011 Samsung released two more tablets, the Tab 10.1 and the Tab 7 Plus. Both solid performers that advanced the Android tablet field … though again all combined for only about the same amount of sales in a year as the Kindle Fire did in 6 weeks!
Recently the specs and pricing and rationale for the 7″ Galaxy Tab 2 were released, and now we have some details about the new Tab 2 10.1. And not to spoil the surprise, but they are a real couple of snoozers!
Let's start with the Samsung Galaxy Tab 2. Basically it is slightly better than the original Tab in most ways, but worse in others … but hey, it comes with Ice Cream Sandwich! Here are some details:
1 GHz dual-core processor
1 GB of RAM with options for 8, 16, and 32 GB of internal memory
MicroSD card slot for memory expansion
7-inch; 1024 x 600 resolution
3 megapixel fixed focus rear camera; VGA front camera
Bluetooth 3.0; GPS; HSPA+ support (on 3G model); Wi-Fi
There isn't even a flash on the rear camera anymore!
Based on early rumors, the pricing is supposed to START at $349 … for an 8GB version. For me, I would immediately call it 'DOA', but apparently Samsung has different ideas. They are looking at the Kindle Fire and deciding to 'douse it with features':
Q: The Kindle Fire has quickly become the No. 2 selling tablet. Do you believe you're competing with Amazon as much as Apple now?

A: We're entering the market from a different place. So where those devices have kind of led with content consumption, we've led with the fully functional kind of multifunction tablet story. What I see happening is consumers wanting to do more with those lower-end tablets, and then there will be even more reason to switch up to Samsung.
So let me see if I got that right … they are expecting people to spend $200 on a tablet, decide they want to do more, then turn around and buy a $350 tablet with better communications, a camera, SD card, and … um, that is about it? Good luck with that!
Late last year there were rumblings that we would be hearing at the Mobile World Conference about a new Tab 10.1 from Samsung with a super hi-res screen and 'iPad 3 killer' specs. Well, now we know that instead they decided to put out the Tab 2 10.1 with decidedly 'last gen' specs except for the ICS OS:
The Galaxy Tab 2 (10.1) will have a 10.1-inch 1280 x 800 LCD and a 1GHz dual-core processor running a Touch Wiz-skinned version of Android 4.0. The 9.7mm-thick tablet has 1GB of RAM and will come in both a 3G + Wi-Fi and a Wi-Fi only version, with the former supporting quad-band HSPA+. Both versions will have a 3-megapixel rear camera and a VGA front-facing camera, as well as Bluetooth 3.0, GPS, and — interestingly enough — a proximity sensor on just the 3G version. There will be an option between either 16GB or 32GB of internal memory — which is expandable thanks to a microSD card slot.
Now don't get me wrong – there is definitely a market for a solid, mid-range tablet built well with great features. But there is a problem – Samsung's tablets are being outsold by those from Apple, Amazon and Barnes & Noble … and yet Samsung seems oblivious to the reasons: vertical integration. Perhaps they aren't oblivious – they just can't rival it in any substantive way. Again, that is fine, but the path they choose is to release something that is more competitive with an iPad 1 and Kindle Fire at the same time we are getting ready for the iPad 3 and hearing about a Kindle Fire 2 coming soon!
It reminds me of a recent Dilbert comic.
What do YOU think about these new tablets?