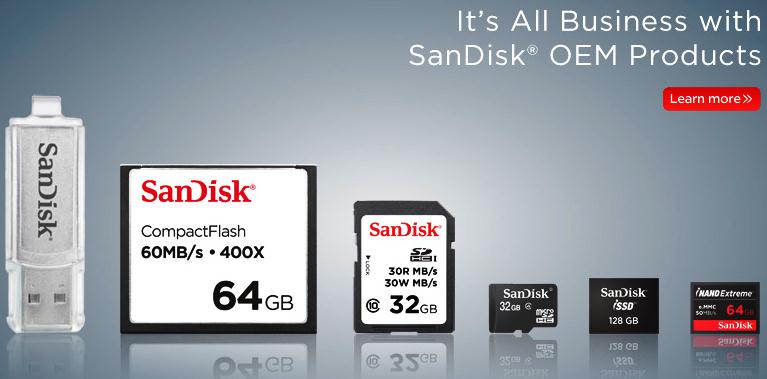 Today at MWC Sandisk made a couple of announcements. First, they announced that their iNand Extreme embedded Flash memory will be included on Windows 8 development platforms from companies such as Intel, Qualcomm and TI. Here is a snip from that press release:
Companies such as Intel Corporation, Qualcomm Incorporated and Texas Instruments Incorporated (TI) are using SanDisk iNAND Extreme™ embedded flash memory with some of their top Windows 8 hardware development platforms. SanDisk is working with these companies to optimize its iNAND Extreme flash memory products with Windows 8-based tablet and mobile designs.

"SanDisk is known for its deep technical expertise and has strong relationships with all major mobile handset and tablet manufacturers, mobile chipset vendors, operating system developers and standardization bodies," said Dan Inbar, SanDisk senior vice president and general manager, OEM. "Because of the effort we make to continually drive innovation and foster stronger relationships with industry partners, we're well positioned to extend our status as a leading provider of storage solutions to Windows 8-based systems."

SanDisk iNAND Extreme is the company's highest-performance e.MMC (embedded multi-media card) solution with up to 50MB per second write and 80MB per second read performance, along with very high speed random performance*. SanDisk iNAND Extreme is optimized to improve system responsiveness and multitasking performance, as well as the browsing experience of Windows 8-based devices. iNAND Extreme is currently sampling to customers in 16GB to 64GB** capacities and is expected to be available in the second quarter.
They also announed how they are working to improve the user experience for mobile device consumers. Here is some of that press release:
"SanDisk works to ensure its NAND flash memory products are tightly integrated with products from all major chipset vendors and mobile operating system developers to ensure the best possible mobile user experience," said Yoram Zylberberg, senior director, Embedded Memory Business. "Focusing on tight integration with the mobile community and standards bodies helps produce an optimized mobile solution. As a result, iNAND™ embedded flash memory is included on a majority of leading mobile chipset reference designs and is the reason why we have such great support from our industry partners here at Mobile World Congress."

"The work SanDisk does to understand actual usage scenarios contributes to a better user experience," said Mike Rayfield, GM mobile business unit of NVIDIA. "When combined with our processors and chipsets, this knowledge is invaluable to driving innovation in mobile devices."

"SanDisk's storage products are tightly integrated with our i.MX processors, enabling optimal performance, product longevity and low power consumption," said Rajeev Kumar, i.MX Product Line Manager with Freescale's Multimedia Applications Division. "As computing, mobile and consumer electronics continue to converge, SanDisk's optimized solutions help deliver a scalable platform that meets the current and future needs of many OEM customers."