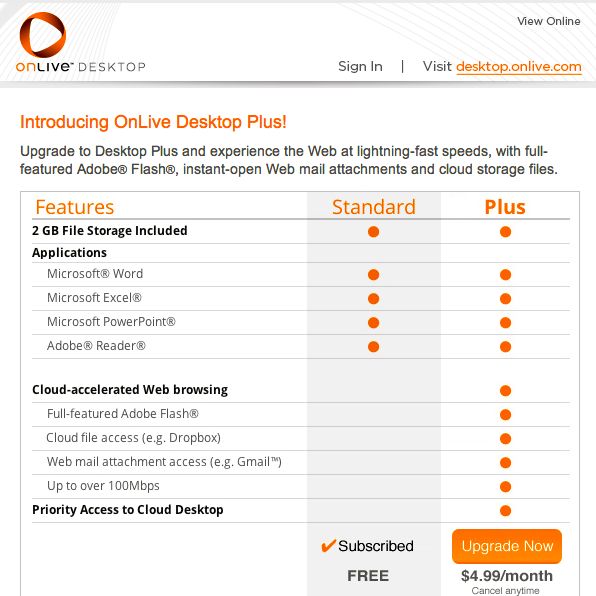 I had planned to write a review about OnLive bringing Microsoft Office to the iPad via their 'OnLive Desktop' cloud-based service, but one of the key usages for me is at work … and OnLive is blocked at work for me. But in general it is a fairly competent remote desktop solution for running Office apps. Personally I would rather just use Documents to Go or Office2HD … but for some it is a good solution.
Now OnLive has announced an entire array of tiered solutions to build on their OnLive Desktop platform. Here are the details:
OnLive Desktop Standard (FREE)—Available Now!
As-available¹ access to multi-touch OnLive Desktop
Microsoft Word, Excel®, PowerPoint®, and Adobe® Reader®.
2 GB of secure cloud storage. Learn More.

OnLive Desktop Plus, $4.99/month—Available Now!
Priority access to OnLive Desktop Standard and…
Gigabit-accelerated² full Flash browser.
Gigabit-speed² cloud storage (e.g. Dropbox) and Web mail (e.g. Gmail™)

OnLive Desktop Pro (starting at $9.99/month)—Coming Soon!
OnLive Desktop Plus and…
50 GB of secure cloud storage
Customize with additional PC applications³

OnLive Enterprise (contact enterprise@onlive.com for more information)
IT-managed OnLive Desktops for businesses and organizations
Custom remoted Windows or Linux with per-user entitlements iPad, Android™, PC, Mac®, monitors/TVs with MicroConsole™ thin clients
Available for custom integration by ISVs, consultants
Contact enterprise@onlive.com for more information.

OnLive collaborative services—Coming Soon!
Live desktop spectating and desktop sharing with voice chat
Small groups to thousands of simultaneous users can join in
Available for OnLive Desktop Pro and OnLive Enterprise
When you think about OnLive as a game serving and streaming platform, this move makes perfect sense – they have the infrastructure established to stream HD-quality game video while processing low-latency game input from the user … so working with a spreadsheet or word processor is a no-brainer.
The issue is really the lack of an off-line mode. I have found the service brutally unforgiving for gaming, and as I mentioned I have too many use cases where I have no access or blocked access. I simply NEED offline access.
Also … $5 A MONTH?!?
What do YOU think about this?
Head to OnLive for more details!