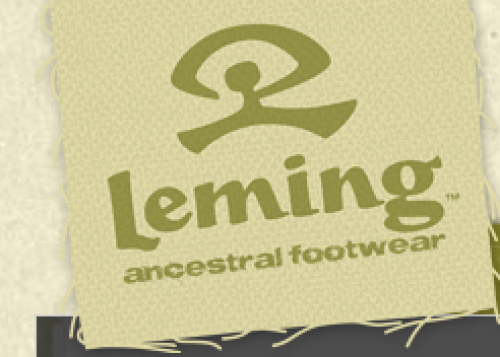 In both the business and animal kingdoms, it is survival of the fittest. You align yourself with the stronger species, and you present yourself as the alpha. So clearly, in the cutthroat and competitive world of footwear, especially in the niche market of minimalist footwear, the answer for Stem Footwear is to change their name to….Leming!?!?
Yes, Stem has gone from a name that evoked evolution, nature, and all the things that barefooters talk about to a name that makes you think of rodents committing mass suicide. Something tells me their marketing department was throwing a Leap Day party when they came up with that one!
Before I really dig into teasing Stem Leming over this, let's remember something important: their shoes are apparently pretty good! Birthday Shoes covered them in-depth just over a month ago, and the reviews were extremely positive! This is a company with a good product, who were getting good press in their target market. Not only that, but that market may end up expanding; Sweat Science reported on a study that indicated lightweight shoes beat out both heavier shoes and being barefoot in terms of efficiency while running. Obviously that's only one study, but if you're a company making shoes that straddle the line between traditional footwear and being barefoot, well, that's CLEARLY the moment to make sure everyone associates you with this commercial:
Mike also threw this video out there:
Either way, these are not flattering thoughts to associate with your up and coming footwear! Plus, lemings/lemmings makes you jump to the idea of followers and cults, an association that already negatively follows the barefoot running movement. It'll brand the shoes all right, just maybe not quite in the way Stem intended!
Though it's still not clear precisely WHAT Stem intended! They announced the change on their Facebook page, and in response to queries about how they came up with such an…unusual name, this was what they had to say:
The new name is not in honor of anyone. When we throwing out names. Leming™ stuck. Leming has character and energy.
Leming stuck? How did they even come up with it? And worse, what were the other options?!?!
It's not just me shaking my head…a few of us at Gear Diary were taken aback by the name change! My favorite was Judie's assertion that even though she'd looked at the shoes when they were Stem, she'd never buy anything branded LEMING…so she's going to be sad when she sees this photo:
On the upside, this adds a whole set of new material to the next incarnation of THIS video:
"You have just gone from stupid to insane." And that's WITHOUT wearing shoes named after this fuzzy lil guy:

(credit again to Mike for digging up the glamour shot!)