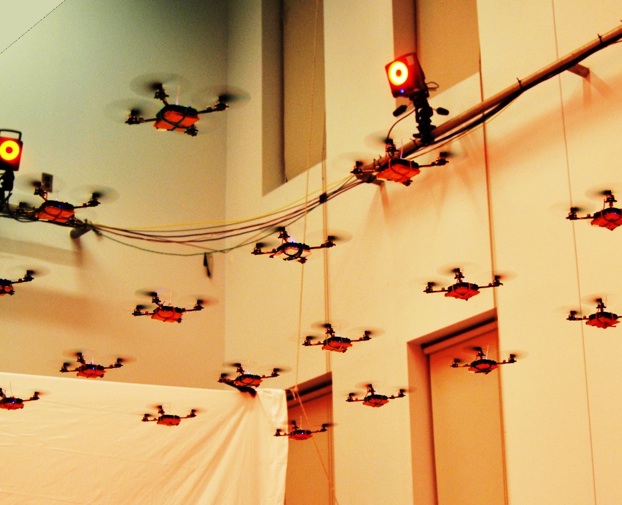 Image courtesy of Urban Times
When I reached my puberty/adolescent heavy-reading phase, I got totally enamored with The Big Three of Science fiction.  Isaac Asimov's work was a huge influence on me growing up (and I even took "Yitzchak" as my Hebrew name in his honor!), and I though his writing wasn't as poetic as Arthur C. Clarke could sometimes be, or as technically interesting as Samuel R. Delany, the ideas just poured out of that guy like water.  And I don't know about you, but I've always been disappointed that robot tech has been so slow to come to fruition; I expected to have awesome robots by now (along with personal jet packs and/or flying cars).  But we're getting there:
In his lab at Penn, Vijay Kumar and his team build flying quadrotors, small, agile robots that swarm, sense each other, and form ad hoc teams – for construction, surveying disasters and far more.
It's a start, don't you think?  We're not at the Three Laws of Robotics level yet, but it's definitely a start.
Surf over and take a look, and tell us what you think below!