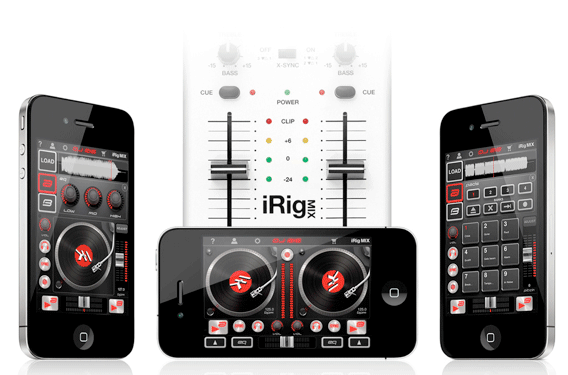 I had written about the CES introduction of DJ Rig, a professional grade DJ app for your iPhone or iPad. Now DJ Rig is available – and it looks better than ever! Here is a snippet from the press release:
DJ Rig isn't just another DJ mixing app. Instead, it's an extremely intuitive, flexible and easy-to-use groove master program with powerful features and intelligent effects that will please even the most professional DJ. Its dual-deck format is as traditional as it gets, but beyond that, there is a world of creative tools – from sync tools to creative effects – that will take DJ-ing on an iOS device to a completely new level that can be used by anyone, everywhere.

Sync Tempo AND Match Beats – Like No Other DJ App
Effects Deck… Unlimited Sonic Possibilities
Sampler Machine
Scratching with CloneDeck™
Record and Share Your Mix
X-Sync – Sync ANY External Audio Source
Features:
Double Deck
-Landscape and portrait interfaces
-Direct access to iPod library and playlists with instant play
-Deck controls: Volume, Pitch, 3-Band Kill EQ, Headphones and Cross-fader
-Tempo controls for fine BPM adjustments
-3 cross-fader curves for customizing fades
-Drag and zoom of waveform display
-Auto-level detection and adjustment for the perfect balance between decks
-Cross-fade filter for fading between decks with bass or high filters for smooth and perfect transitions
-Customizable deck interface (available for in-app purchase)
-Multiple output configurations for virtually any audio setup
-Supports all major digital audio formats including MP3, AAC, WAV, AIFF
-Live recorder enables you to record full mixing gigs
-Export your mixes via file sharing

Mix & Scratch
-Tempo Sync
-Beat Match – for the first time, a DJ iOS app that can align songs' beats
-Fast BPM detection, beat analysis and beat map saving
-4 visual cue points per song (1 built-in plus 3 available as in app purchase)
-Automatic looping to create loops with beat-accurate tempo divisions
-Accurate scratching engine modeled on real deck behavior with CloneDeck™ technology for scratching with cut-to-the-beat
-X-Sync mode detects the BPM from an external audio sources in real-time and automatically syncs the tempo (when used with iRig MIX)

DJ Effects
-Effects deck with 12 effects: Delay, Flanger, Crush, Filter High Pass, Filter Low Pass, Filter Band Pass, Compressor, Wah, Phaser, Fuzz, Reverb, Stutter (6 built-in plus 6 available for in-app purchase)
-XY touch interface
-All effects are BPM-synched
-Multiple controls
-Extra filter available

Sampler Machine
-On-the-fly sampler machine
-9 pads matrix with assignable pads on 4 instantaneous sound banks
-15 sound banks available (8 built-in plus 7 available for in-app purchase)
-Live sampling functionality
-Pitch control
For all of the amazing features and high quality effects, DJ Rig is being introduced at an awesome price of $1.99 for a limited time.
If the features above aren't enough, IK Multimedia also offers a Pro bundle pack including "6 more effects (Flanger, Comp, Fuzz, Reverb, Auto Wah, Crash), 7 extra sound banks, 3 more cue points plus digital deck interface." All of this is available for a $4.99 in-app purchase.
For more information head to www.djrig.net or www.irigmix.com.
Here are some cool videos to show off the possibilities of DJ Rig:
Scratching on iPad with DJ Rig and iRig MIX

Start Up & Mix with DJ Rig, The Professional DJ Mixing App for iOS Devices

Effects Pads and Looping with DJ Rig, The Professional DJ Mixing App for iOS Devices

X-Sync – Sync ANY external audio source with DJ Rig The Professional DJ Mixing App for iOS Devices

Head to the iTunes App Store and grab DJ Rig for the special introductory price of just $1.99 now!