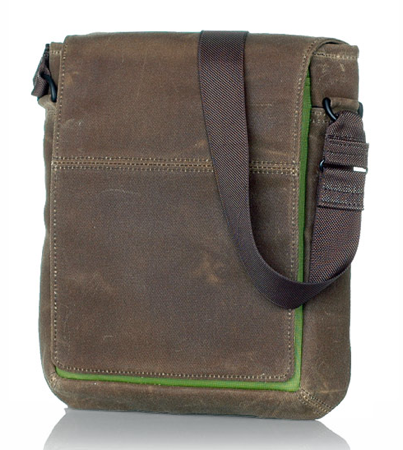 WaterField Designs has just announced the Muzetto Outback. The Muzetto Outback is a waxed canvas version of the company's Muzetto bag. We have reviewed it here and were rather impressed. The new version of the Muzetto is available in dark brown canvas with a choice of six accent colors. It even comes in five sizes with two designed specifically for the new Apple iPad.
The Muzetto Outback is a vertical messenger bag that is designed for those who want to travel light… and in style. For example, the version designed for the iPad has one main compartment for the actual device, a back pocket for "easy-to-retrieve paperwork", a pocket under the flap, an interior pocket with a zipper for stashing cash, and an adjustable strap.
As the Gary Waterfield, the company founder explained,
What appeals to me about waxed canvas is the old world, retro look. It ages like leather, and each bag develops its own unique character. I like to think it's something a modern Indiana Jones would use for his new iPad tablet. Plus, scratches and marks can be softened by applying some heat from a hair dryer, giving it that handsome, well-worn look.
The Personal Size is 10.5″ x 8.5″ x 1.5″ and is priced at $149. The largest size can handle a 15″ laptop. It is 15.5″ x 11.75″ x 2.7″ and has a price of $189. All five sizes are available for pre-order now and will begin shipping by March 26, 2012. You can check out all of Waterfield's products here and the Muzetto can be found, and ordered, here.