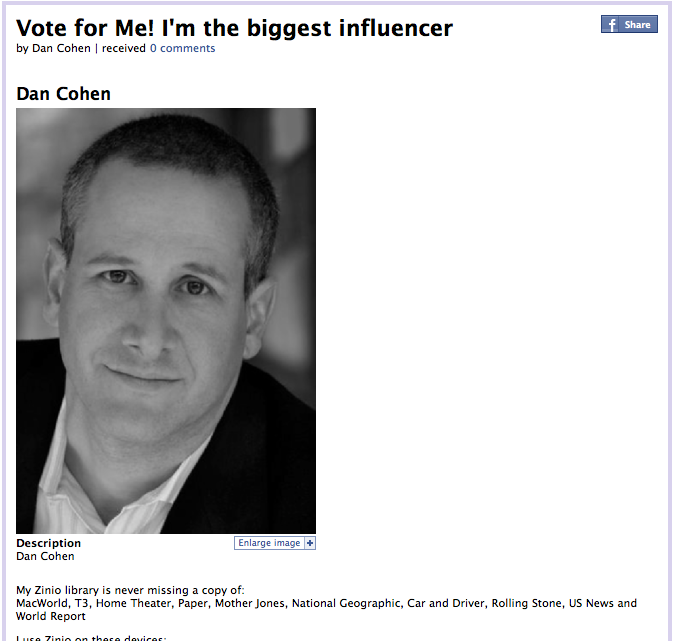 How can you win some cool goodies for yourself, help a great charity, and make Dan look like a superhero at the same time?
Simple — Vote for hm as the "Biggest Influencer" in Zinio's new contest!
Voting opens Saturday (March 10th), and you — as a voter — can earn multiple contest points by doing the following:
During the voting period, visitors to www.zinio.com/onzinio will be able to cast one vote per day for the Influencer that they believe most resonates with them. Additional votes for the day can be accumulated by performing a defined set of tasks as listed;

+1 to like zinio on fb
+1 to follow @zinio on twitter
+1 to follow @ziniodeals
+1 to optin to zinio emails
+2 to share program on fb
+2 to share on twitter
+3 to d/l or update the zinio app (and register)
+3 to share on you tube
+5 to get a free mag from zinio
+10 for each purchase made on zinio during program dates
+25 to get a known celebrity to promote the effort on fb or twitter
Every single day that the contest runs, if you vote you'll be eligible for the following prizes:
• 5 one year subscription to VIVmag (annual retail value $9.99)
• 25 $5 Zinio bucks (no cash value)
• 1 $50 Zinio bucks (no cash value)
Each week that the contest runs, beginning March 16, 2012 and for each of the four Friday's after, the following gifts will be awarded.
• 1 $100 Macy's gift cards
• 1 $50 itunes gift cards
On April 16, 2012 three voters will be selected as the winners of:
• 1 $250 in Best Buy giftcard
• 1 Canon PowerShot SX150 14.1MP Red Digital Camera, Bag, Tripod & 8GB Memory Card (average retail value $229.96)
• 1 New Dell XPS 13 Ultrabook™" (average retail value $999)
Perhaps the best part is that if Dan is chosen as the "Biggest Influencer", a donation of $2500 will be made to his designated charity!
The complete list of contest rules may be found here, but that's the general gist of things.The charity Dan is supporting is Foundation Beyond Belief; you can read more about them and the good work they do, here.
Please vote for Dan by clicking here.