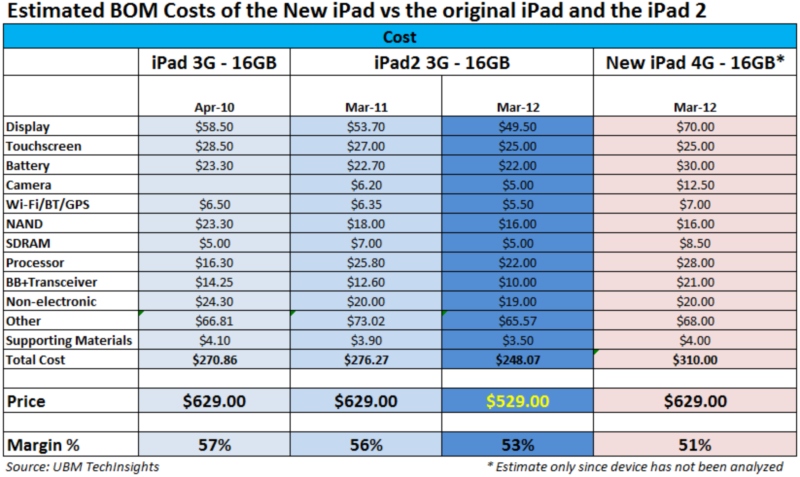 Tear-downs and approximate BOMs (Bills of Materials, or the list of stuff needed to build a product) are a fun way to estimate about how much something costs, and therefore what sort of profits a company might be realizing. And just like pretty much every other major device before it, the iPad 3 has gotten an estimated BOM, according to a report out of EETimes.

The interesting thing being noted everywhere is that the cost of materials has risen by ~$40, or ~15%.
The new iPad announced yesterday will have an estimated bill of materials cost of $310, up from $270.86 on the original iPad and $276.27 on the iPad 2 based on versions at launch using 16 Gbytes memory. By selling all three at the same $629 price, Apple is cutting its profit margins about five points from 56-57 percent on the first two generation products to 51 percent on the new iPad, UBM TechInsights projected.

Apple's profit margin on the iPad 2 will dip to an estimated 53 percent when it is discounted to $529 at the release of the new model. The iPad 2 sustains less of a hit because prices of its components are projected to have come down since its launch last year resulting in a current bill of materials cost of $248.07 for the 2012 version of the iPad 2, it said.

Most of the new iPad's higher costs are split fairly equally between four major components. The new higher resolution display is expected to cost about $12 more, the new A5X processor adds about $8 and the LTE modem and expanded battery add about $7 each to the new iPad's cost, UBM TechInsights estimated.

The analyst firm cautioned that its estimates are projections that it will further refine once the tablet is available for a full teardown inspection. UBM TechInsights is part of UBM LLC, the company that publishes EE Times.

"The bottom line is the new iPad's margin should take a little hit because of some expensive adders like LTE, the high-res display and camera, a bigger battery and faster processor," said Jeff Brown, a senior UBM TechInsights analyst. Apple "will hope to offset that margin decrease with a slightly higher margin on the iPad 2," he said.
Looking at all of those numbers is fairly bland and says very little about what is going on … which is actually some amazing stuff. Let's go through some of the major changes:
Retina Display – The new iPad display is really cool, but more than that it is pretty amazing technology, according to the folks at DisplaySearch. That we are only seeing a $12 addition for this sort of step-change in technology is simply stunning to me as someone who spent years in the semiconductor industry.

A5x Processor – using a faster and more powerful dual-core processor will improve power utilization as I assume it is based off of a 'shrink', but more power and cost due to the increased complexity and quad-core graphics.
LTE networking – I have little doubt this adds ~$7 to cost … but for me the big concern would be battery life. The major issue with every 4G device to date is abysmal battery life.
Bluetooth 4.0 – Aside from adding 4G networking, the new iPad is also

the world's first Bluetooth Smart Ready tablet,

sporting Bluetooth 4.0. This is a battery saver as well as a technology boost … but that surely had to cost more!
HUGE Battery – I saved the best for last. I remember how every new laptop generation would add new processors, better screens … and lose all battery life gains from the refinement of the previous generation. Here we see a 'better than HD' screen, faster processor, at least 2x the graphics power, more and faster networking technologies and so on … and the same battery life, in a package ~0.7mm thicker than the iPad 2! It is stunning, and

apparently the new battery has more than 70% additional capacity!
It always amuses me how 'spec hunters' look down their nose at Apple as they have for three decades, and fail to see these types of major advances. Apple has championed huge changes such as USB, removal of floppy disks, every-advancing Bluetooth, and so on. Now we get a device that not only has major changes you can see and feel, but ones that cost money, give little immediately 'bang for the buck', but will help usher in new possibilities for tech advancement!
What do you think about the new hardware lurking inside of the new iPad?