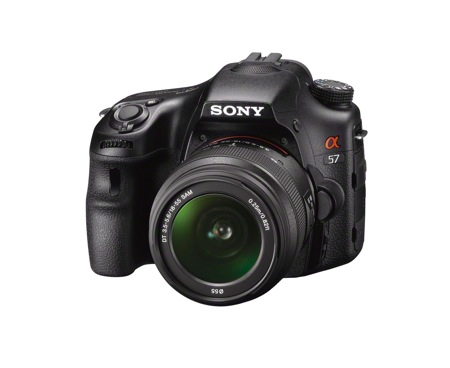 The now-trite, but still applicable, phrase "the best camera is the one you have with you" has been my motto for the past few years. I've been quite happy using my iPhone as my point-and-shoot most of the time and my Cannon G11 for those times when I needed something better. The G11 is a great camera but is, for all intents and purposes, a glorified point-and-shoot albeit a better one than my iPhone, and lately I've been thinking about getting something better… something more powerful… something that would make me go "Wow!" because I was suddenly able to take awesome pictures. Then Sony reached out and asked if I might like to get some info on a brand new camera before it was even announced. I was, of course. And this particular camera is that "Wow!"
New α57 camera is the successor to Sony's α55 camera. The company is positioning the α57 for a wide audience of DSLR users. Able to shoot still images at up to 12 frames per second, the camera can also capture full HD video at 60p, 60i or 24p frame rates. That's all good and well but, as I learned with my new car, the extra bells an whistles can make a huge difference. And this camera has some great bells and whistles!
As Mike Kahn, director of the Alpha camera business group for Sony Electronics notes, "Today's DSLR consumer is looking for a higher level of control and flexibility in their camera. With the introduction of the new α57, we're bringing blazing fast response rates, enhanced artistic capabilities and other advanced features to the mainstream DSLR marketplace, offering professional-grade performance at affordable prices."
The camera has a new body-style that makes holding the camera and shooting with it even better than its predecessor. Here's a video look at it.
So let's talk bells and whistles. The camera has a number of creative modes including Auto Portrait Framing. It is a cool technology, and a world's first, that will come in handy for people like me who want to take great pictures but don't have the training or patience to learn the ins and outs. The AutoPortrait Framing
improves the way a photo is framed in the camera. Then, after you take the shot, the camera creates a second photograph and automatically improves the composition. As the release explains,
Even the novice photographers can now easily create pro-style portraits with the α57 thanks to new Auto Portrait Framing, a world's first technology. Using face detection and the compositional 'rule of thirds,' the camera identifies a subject's position, trimming the scene to create tightly framed, professional-looking pictures in portrait or landscape orientation while maintaining a copy of the original image. Saving both the original photo plus the adjusted version allows for easy comparison between the two images, offering photographers inspiration to refine their portrait skills.
Clear image zoom is another tool that will come in handy. It lets you crop image while maintaining the original shooting resolution despite the cropping. The camera also offers a variety of in-camera Picture Effect modes: 11 different effects and 15 total variations in all.
The camera makes for a great video camera too. It shoots full HD movies and has
responsive full-time continuous phase detection AF ensures that moving subjects stay sharply focused, just like with still shooting. Support for the AVCHD™ Ver. 2.0 (Progressive) format means that Full HD resolution movies can be captured with 60p frame rate: ideal for capturing smooth, blur-free action. Shooting in 24p is also available to give footage a rich, cinematic look. Movie-making options are enhanced further with full control over P/A/S/M shooting modes for virtually limitless creative expression.
In all it is an impressive camera and may well end up in my gear bag in the near future. Fortunately for me it is not yet out so an impulse buy is not a possibility. It will be out in April and will go on sale in two versions.
The new α57 interchangeable lens camera will be available this April with an 18-55mm kit zoom lens for $800 (model SLT-A57K) while a body-only option will sell for $700. You can get all the information here on the Sony Blog.