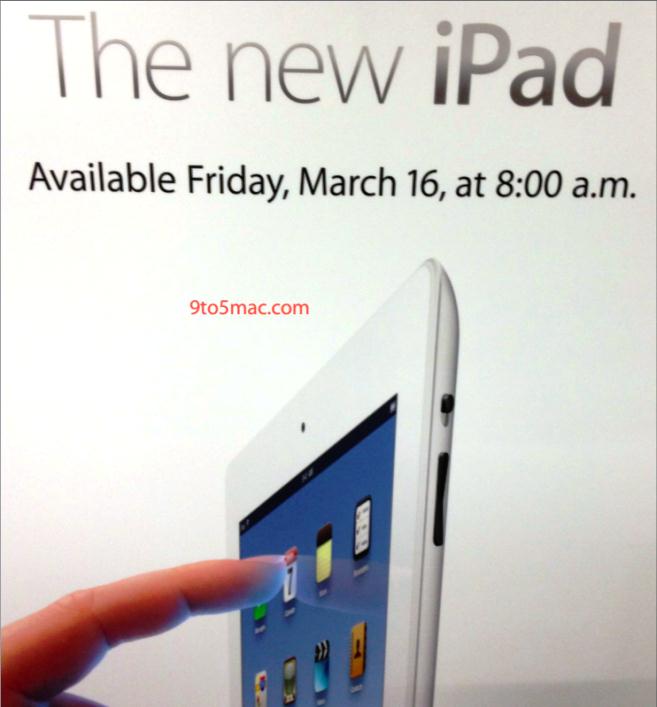 The bottom line is this: unless you pre-ordered the new iPad within the first twelve hours after the announcement last week … you shouldn't pre-order now if you want to see it before April. That's right – all twelve variations (Black/White, WiFi/4G, 16/32/64GB) have "Ships: 2-3 weeks" listed as delivery time.
Conventional wisdom says that in supply constrained cases like this, the best course of action is to pre-order since if it is sold out at Apple, chances are there will only be a few available and you should get in virtual line NOW.
Conventional wisdom is wrong. There are two reasons for this.
The first reason is that pre-ordering can tie up available credit even if you are not actually 'charged' for the transaction. Of course, this depends on your credit card company, but I know that there were some who would actually charge interest on pending transactions! And if you have a $2000 limit, pre-order the iPad and suddenly need to do major home/car repairs, you might find yourself in trouble! So there might be financial reasons to not pre-order.
The second reason has to do with the way Apple values and treats their customers.
Samsung might like to poke fun at Apple users for caring enough about their products to actually stand in line in order to get one … but Apple appreciates the loyalty and sense of community that those in-store and in-line experiences offer. So rather than just selling every possible unit online through their web site, they allocated an estimated 1 million units for pre-sale (which are long gone).
On top of that, they are making sure that the tons of other people looking to grab a new iPad have a chance. They recently announced that the iPad will go on sale through their stores Friday March 16th starting at 8AM:
Apple® today announced the new iPad®, the third generation of its category defining mobile device, will arrive at Apple's retail stores and the Apple Online Store (www.apple.com) on Friday, March 16 at 8:00 a.m. local time in the US, Australia, Canada, France, Germany, Hong Kong, Japan, Singapore, Switzerland and the UK; along with Puerto Rico and the US Virgin Islands.
But the question is: since we can easily speculate that pretty much every available unit will sell out quickly, HOW should you go about best positioning yourself to get a new iPad? Let's look at the three possibilities.
One reason to pre-order: if you are dead-set on a specific model, including specific color and memory size … then you might run into problems getting what you want on Friday, particularly if you want a more popular model – which for the iPad 2 was the 64GB model in 3G and WiFi, followed by the 16GB WiFi-only version. We can safely assume that trend will continue – so unless you have some flexibility, you might want to pre-order … because once the iPad sells out in stores we will see a second wave of pre-orders hit. But that doesn't mean you still can't try to get one in store.
The Apple Store is your BEST bet: The Apple store is considered one of the great modern shopping experiences, something recently confirmed by Carly, Dan & Judie. I have always had great experiences at Apple stores, which seem relaxed places even when totally packed. It is no secret that these stores are the centerpiece of Apple's retail empire, so expect them to have the most inventory of all models compared to any place else. They certainly want to make sure that they sell out last.
Verizon and AT&T for 4G: As much as I love shopping in general, I hate walking into a Verizon store. That said, they will certainly have a solid share of 4G iPads for sale on Friday … if you can get past someone trying to upsell you and push accessories. My advice if you plan on getting a 4G/LTE model and don't have a local Apple store is to check in with your local Verizon/AT&T store and see if they are planning to have any available. It might be a better bet than the … 'other options'.
Other options: The iPad is also being sold at Best Buy, Radio Shack, Sam's Club, Target, and Wal-Mart in the U.S. starting on Friday. Most of those stores open at 9 – 10AM, and as of yet there is no indication if they will open early. These stores are always a tough read: Best Buy varies wildly – back in Massachusetts my local store was a huge and important store and always had loads of just-released items, whereas the one a bit further away in Nashua NH was almost the same size but clearly a second tier shop. The one near to us now is about a 12th tier closet that sells no Apple products in general except iPad, iPod and iPhone.
My advice here is to check with the individual stores or go with the one that seems to be the biggest draw in general … though that will also likely be the one with the most people flocking to buy the iPad on launch day.
A few other notes:
- Stores such as Best Buy are reportedly starting to see inventory shipments for Friday, but Apple has a history of being extremely tight with controlling releases. You might be able to chat up your local employee and see if you can get an estimate of how many they were allocated. Or not. My luck with that has varied.
- Divide and conquer: when the Wii came out and it was extremely constrained, my kids wanted to buy one with their Christmas money. We had word that both Best Buy and Circuit City were getting 'minimum 25′ per store, so my wife and one son went to one store and I took my other son to the other store. The winner? The kids – they got a Wii, and it was the store with the longer line that had more stock!
- Lines have already begun forming.
One thing I have been asked is … why worry about getting it at release? Is it just a 'fanboy thing'? Well, there is no denying that there is a certain amount of that going on, but there is another reason: value. If you bought an iPad 2 on March 1st, guess how much you would have paid for the 64GB WiFi model I have? EXACTLY the same amount I paid – this isn't like Android tablets that do most of their unit sales at 25 – 50% off sales. So by getting something I know I will get anyway and use for hours per day as soon as possible, the 'cost per hour of use' is actually lowered. Had I sold my iPad 2 for the estimated $300+ I could have gotten in a trade-in program, my actual cost would have been just over $1 a day, or less than $0.25 per hour.
Apple also released a new iPad video:
As Dan mentioned in his 'Would You Believe' post (I can't even type it without hearing Don Adams voice), tracking the iPad is a bit of a sport, even though we know we won't see it until Friday. My accessories (camera connection kit and new Smart Cover) have arrived already. So where is MY iPad? Same place as Dan's, in Middletown PA … about 3 or so hours south of me.