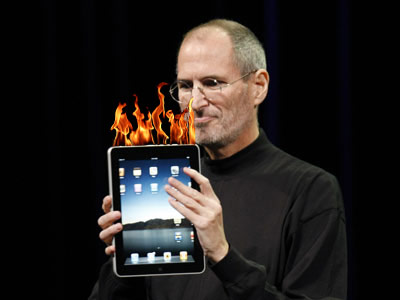 Along with all of the other stuff everyone is reporting about the new iPad, today there were TWO 'hot' things which came to light: the new iPad seems to get warmer than previous versions, and Apple reported selling more than 3 million of the new iPads in the first three days of availability.
If You Can't Stand the Heat …
Our own Chris Gavula reported internally over the weekend that he was finding the new iPad to be much warmer, particularly in one spot. Today I have started to see similar reports popping up, but none that have told me anything definitive that would allow me to provide any guidance or details. The first article I noticed was an obvious link-bait title that was basically full of a few anecdotes and links. There was one 'real' report of a heat-up with the new iPad, and two 'overheat' Tweets and a report from … April 2010. Yes, that is right, they pulled out 2 year old initial usage reports saying that using your iPad made of metal with an infrared transmissive glass cover in the hot sun causes it to overheat and shut down. I was more surprised now than I was when I first read the reports … not about the facts, but about the abysmal reporting!
It seems that there is confusion between 'heat-up' and 'overheat' in the so-called tech press.
'Heat up' is a term for something getting warm. Your car engine heats up, so you don't want to touch it after driving for a while. But if it got so hot that the inside of your car became unbearable that would be a different issue. 'Overheating' is when something gets so hot it reaches a non-functional state. Most electronics or electronically controlled equipment have temperature-based shut-offs that will halt the equipment when a critical state is reached. The same is true with the iPad.
From what I have found, NO ONE is saying they are getting unexpected or unusual shutdowns. Just that even SOME experienced iPad users are feeling that the new iPad is hotter. Personally, even with the 4G version I haven't noticed anything yet.
We have also heard that after a full discharge and recharge that the temperature range seems to be normal.
The interesting thing – there seems to be almost a 'chip burn in' going on (look it up, kiddies). In this process you would subject your circuit board to higher operating temperatures for an initial time period before resetting to a normal cycle. I have no idea if that is what is happening, but it would make technical sense.
Which is in itself an interesting thing: this isn't the first 'field burn-in' we have seen: other Apple devices have seen screen yellowing as the adhesives cured in use. This is amazing stuff if true – to get devices to consumers more quickly Apple is putting some of the device burn-in period into the hands of users.
Smoking Hot Sales
After Apple had their call to announce the dividend and stock repurchase, they put out a press release detailing the initial sales of the new iPad. Here is a bit:
Apple® today announced it has sold three million of its incredible new iPad®, since its launch on Friday, March 16. The new iPad features a stunning new Retina™ display, Apple's new A5X chip with quad-core graphics, a 5 megapixel iSight® camera with advanced optics for capturing amazing photos and 1080p HD video, and still delivers the same all-day 10 hour battery life* while remaining amazingly thin and light. iPad Wi-Fi + 4G supports ultrafast 4G LTE networks in the US and Canada, and fast networks around the world including those based on HSPA+ and DC-HSDPA.**

"The new iPad is a blockbuster with three million sold―the strongest iPad launch yet," said Philip Schiller, Apple's senior vice president of Worldwide Marketing. "Customers are loving the incredible new features of iPad, including the stunning Retina display, and we can't wait to get it into the hands of even more customers around the world this Friday."
Think about it this way: in THREE DAYS Apple's new iPad has sold more devices than the LIFETIME sales of ANY tablet other than the Kindle Fire. Wow … just wow.
Today was my 'show me your new iPad' day at work, and everyone was suitably impressed with the screen, the camera, the new softer smart-cover, and the awesome 4G speed. I am already at the point that it is just my constant companion, so I needed to step back and remember just how amazing the new technology really is that I have been using for just a few days.