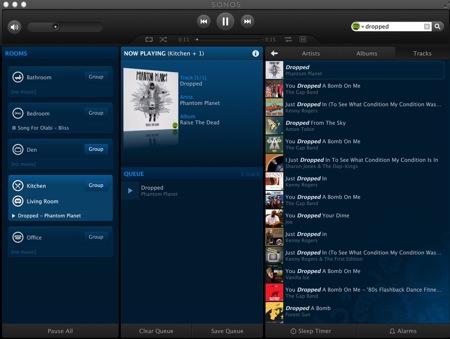 We brought word last week that Sonos would be releasing new controllers for both Mac OS X and Windows computers. We had a chance to quietly check it out in advance of its release and I can tell you it is fantastic. Seriously, it looks great, as exponentially faster than the old version and it finally brings the computer controllers to parity with the refinement of the rest of the Sonos platform. Best of all, the update is now available to everyone.
This is the old version of the Mac Controller. It is pretty darn ugly.
And if you have the old version on your computer you simply go to "Check for updates" and, within seconds your new Controller will be downloading.
The new design looks fantastic but, perhaps more importantly, the new Controller gets rid of the lag that was so much a part of my experience using the Sonos Mac Controller.
Even bringing up the various zones and grouping and ungrouping them, something that always caused a bit of a delay, is all but instantaneous now.
Key features of the new Sonos Controller apps for Mac and PC include
A Mini Controller lets you control the music while you're working in other apps

A single search box lets you quickly find artists, albums, songs and stations across all your music sources—music library, Internet radio and music services.

Simple drag & drop interface now lets you add one or multiple songs to your queue, room or group of rooms for instant music gratification

One touch Party Mode volume control lets you easily raise or lower the volume in all your grouped rooms simultaneously

New design and functionality provide greater consistency with other Sonos Controller apps
The new Controller App is available now. You can read all the details here on the Sonos website.