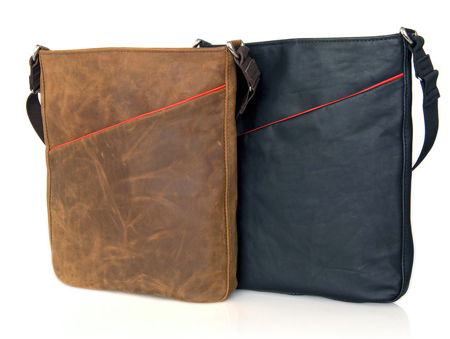 My favorite movie of all times is Raiders of the Lost Ark. It combines everything I like — adventure, archaeology, a mythic story and … a really cool guy with a really cool hat and an even cooler murse bag. Seriously, it is one of the few movies I have seen over and over again. I am such a fan that I went to one of my college fraternity costume parties as, you guessed it, Indiana Jones.
Waterfield has just announcing a brand new bag that is perfectly sized for taking your iPad with you without having to carry a big bulky bag. They call it the Indy, and one look is all it takes to know why.
This is what Waterfield has to say about their new offering:
iPad too big for a pants pocket? With the Indy, slip your iPad in and off you go.

The new Indy blends a well-worn, outdoorsy look and contemporary elegance with its distressed, black or brown leather. Designed for efficiency, the main compartment holds an iPad, includes two deep organizational pockets and is lined with WaterField Designs' signature gold nylon. The top zipper sits lower than the opening, making it almost invisible. A diagonal outside pocket shows a hint of color and is lined with super soft Ultrasuede® to cushion an iPhone and other necessities. A pocket on the opposite side secures items with a self-locking zipper. These outside pockets are strategically designed so the Indy has no obvious front or back. An adjustable strap for carrying on the shoulder or across the body, plus a choice of matte black or nickel hardware, completes the elegant yet practical Indy.
If you want a bag that avoids being labeled a murse this probably isn't the bag for you. To me though, it looks so great and promises to be such a simple, effective and stylish way to carry your iPad everywhere, that I personally don't care.
As Gary Waterfield, "the guy behind the company logo" says,
With the iPad becoming as indispensable as a wallet or an iPhone, it should be just as convenient to carry around. But, because of its size, the iPad is usually stashed in a bigger bag or backpack. The Indy is designed from a guy's perspective.
The Indy is available in black or brown leather with "a hint of color (six choices) and a choice of sturdy black matte or shiny nickel hardware". It will be available beginning on April 14 at an MSRP of $179. Details and pre-ordering can be found, here.