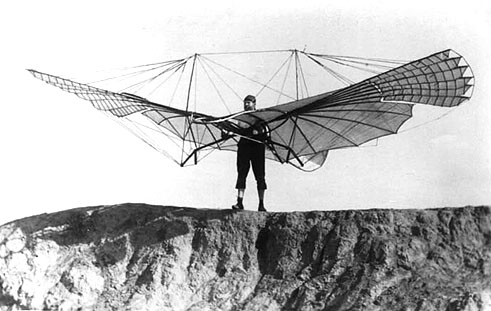 Image courtesy of HumanBirdwings
Since the beginning of existence, humans have been attempting fly. Leonardo Da Vinci decided he wanted to fly back in the late 1400′s and created numerous drawings and sketches on winged flying devices. Unless you happen to attend Xavier's School for Gifted Youngsters, chances are that you won't be flying on your own without some mechanical assistance one way or another.
A Dutch engineer decided he wanted to fly like a bird, and so he developed some wings of his own; the best part is that they actually work. This low tech design actually has some high-tech assistance from some Nintendo Wii controllers and a HTC Android phone. The system is designed to work off of feedback from him flapping his arms which is then assisted by the phone's accelerometers and the Wii's sensor system.
Check out the video below for proof. *Some say that it's a fake and just another attempt to go viral. I really don't care, because if nothing else it's a cool video.
There are definitely easier ways to fly, but this has to be one of the coolest and safer methods I've ever seen. If you are familiar with the Rocketeer or Iron Man, then you know from some of the blunder videos that a flying man has not always seen such glory.
Imagine rolling up the park on a quiet Sunday afternoon and flying around for a little bit. With some lightweight materials, some internet blueprints, and a little nerve I'm thinking this is nothing short of a good idea. I commend Mr. Jarno Smeets for defying the odds and actually pulling off what others have been trying to do for hundreds of years. The fact that it's a pretty low tech setup  that uses easily available technology is commendable in its own right.
I hope to see more development from Smeets and maybe even a home kit for us inspiring backyard pilots.
Via Time Techland