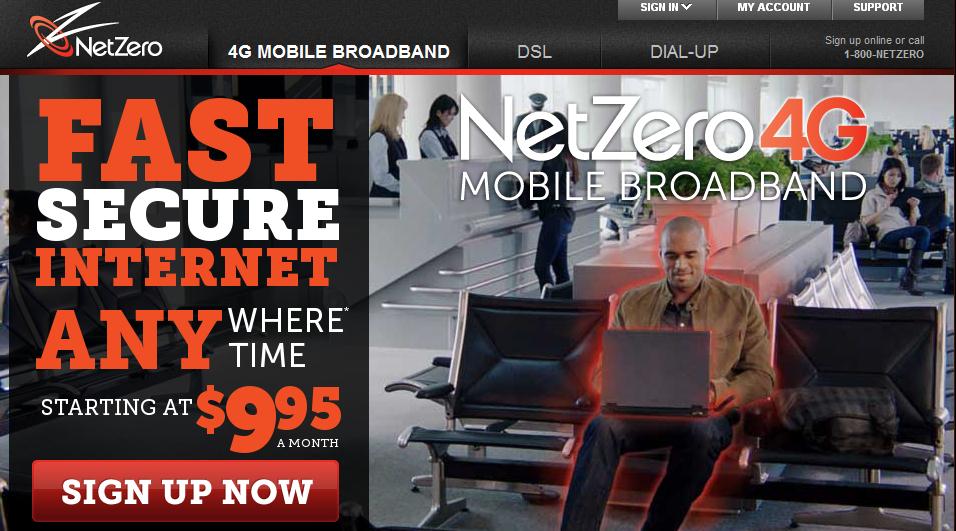 Do you remember Netzero? Back in the late 90′s they made a huge splash by being the first to introduce FREE dial-up internet service. They did this by offering 'highly targeted' advertising, something they had several patents around. More than a million people flocked to the service in the first 6 months, which was an amazing number in 1998. After a few years internet advertising became much less of a cash-grab and they had to start charging based on excessive use. As broadband adoption took off Netzero offered 'dial-up helpers' as one of the internet accelerators, but clearly their days were numbered.
Now NetZero has entered the 4G hotspot arena … for FREE! That is right, you can get free monthly service with a 200MB limit, so long as you buy the HotSpot.
Here are the basics:
NetZero has announced two mobile wireless devices — a $99.95 NetZero Hotspot, which allows you to connect via Wi-Fi to the 4G connection, and a $40.95 NetZero 4G Stick, which plugs into your laptop to provide 4G service. Purchase the devices and you get 200MB of free data every month.
So yeah, it isn't quite FREE, but it is pretty close. As noted, 200MB is not a lot of bandwidth, and is easy to tear through with just routing use of email and Facebook and perhaps a few web sites on a daily basis. But if that is what you do – perhaps it will work.
But if 200MB isn't enough, check out these other plans:
Here is how it works:
NetZero 4G Mobile Broadband provides secure, mobile, super-fast 4G Internet access for your laptop, iPad®, netbook or tablet in over 80 cities across the U.S. With a NetZero 4G device, you become your own hotspot. You no longer have to search for a public Wi-Fi location to enjoy Internet on the go. Your Internet connection is private and your personal information is protected from hackers and data thieves.

With NetZero 4G Mobile Broadband, there are no contracts, commitments or overage charges. You can pick the data plan that meets your needs, starting at just $9.95 per month. You can even try the service for up to one year for FREE
Two things to note: first, the free plan is only good for a year, at which time you are either done or need to upgrade to a paid plan. Second, the system uses the ClearWire network, so if you can't use ClearWire (like me) you can't use NetZero. But they have a great coverage map to help you find out – and hey, at this price it is worth finding out if it will work for you!