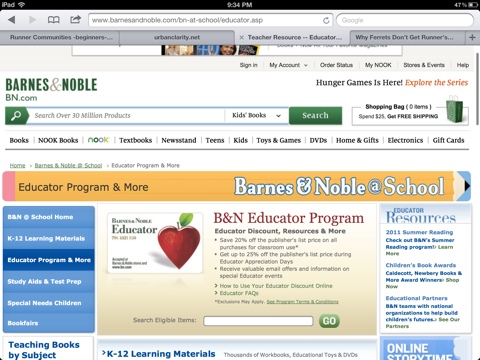 My mom is a teacher. She works hard. From 5am until she heads to bed, often after 11pm, she doesn't stop moving. When she isn't actively teaching her students she is grading papers, working on lesson plans, and helping them with their extracurriculars. She loves her job, and her students love her. So it thrills me to see companies recognize how hard teachers work. That's what Barnes and Noble is doing by offering an entire week of discounts for educators!
From April 14th to 22nd, B&N is celebrating teachers (like my mom!) They are even discounting the NOOK line:
Educators who shop at Barnes & Noble during Educator Appreciation Week will receive 20% off NOOK Tablet – 16GB™, NOOK Color™ and NOOK Simple Touch™ and 15% off NOOK Tablet – 8GB™, along with a 25% discount on personal and classroom purchases, and a 10% discount on DVDs and music. In addition, educators will have a chance to win a $500 Barnes & Noble gift card, a NOOK Tablet, a Pimsleur Unlimited Language system, and other prizes, giveaways, delicious treats and beverages through local and regional raffles and contests. Educators must present a valid Barnes & Noble Educators Discount Card to receive the discounts.*

As part of the Educator Appreciation Week celebration, stores will hold receptions for Barnes & Noble's My Favorite Teacher Awards, an annual contest which allows students to tell their communities how much they appreciate their teachers. Select Barnes & Noble stores may also host special events and workshops. Events will highlight the many services Barnes & Noble offers designed to save educators time and money. Services include providing educators with information on the newest titles and authors in Children's and YA literature; discussions on the hottest literary trends and genres; assistance with curriculum development and suggestions for teaching guides and classroom materials; and bulk discounting. Customers are encouraged to check with their local store for details on all events
It's great that B&N is offering discounts, but the emphasis on the NOOK discounts is interesting. It suggests that something else is going on here and I think I know what it is. The iPad has started to make inroads into education (my mom uses hers to teach all the time). Getting NOOKs into the hands of teachers is one way to attempt to gain a foothold in the education space. And while I don't see NOOKtablets replacing full tablets, I am sure that B&N will welcome any market share expansion. And as for teachers, 20% off is nothing to sneeze at!
Teachers work hard, with limited supplies, budget issues, angry students, and often low pay. It's not all summers off and easy days. So if you're an educator, thank you! And if you know an educator be sure to point them to B&N and let them know they are appreciated! Or better yet, buy them a nook!