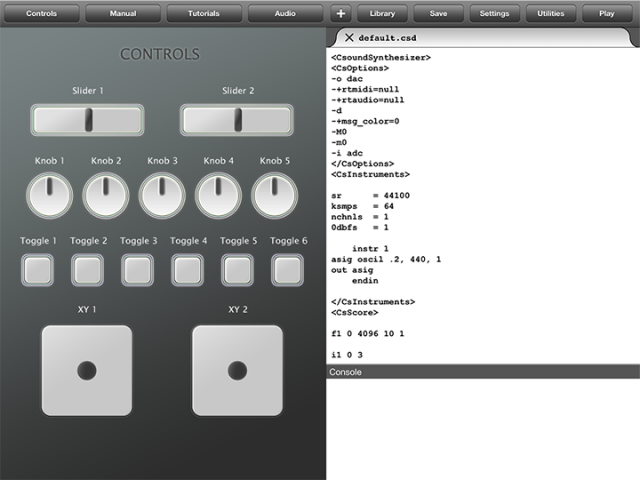 If you were to ask someone under 50 years old doing deep-level sound development, they would likely point to CSound as one of the most influential and important pieces of music software ever created. It is an incredibly versatile and modular sound development tool … and it is coming to the iPad!
Here are some details:
Csound Touch is a new app that lets you to render, process, compose, and perform with the Csound language. To accommodate various experience levels, Csound Touch comes with a large collection of synthesis, signal processing, and MIDI instruments waiting to be played and customized. Tutorials, manuals, and examples are also provided to help new users learn Csound.

Features:
- Built upon and synchronized with the latest version of Csound5
- Real-time rendering of virtually any .csd file
- MIDI control of virtually any Csound-based MIDI instrument
- GUI control of instruments with sliders, knobs, xy controls and a keyboard
- Selections from Dr. Boulanger's Csound Instrument Catalog
- Documentation to further your Csound knowledge, including:
- Chapter 1 of The Csound Book, Csound Manual, FLOSS Manual, and more
- Import/export audio via Dropbox, AudioCopy, or Email
- Pricing and availability for Csound Touch are to be announced.
But the official CSound app isn't the only way to get the power of CSound on the iPad. Boulanger Labs just released another app called csGrain:
Boulanger Labs presents csGrain – the first in a new line of innovative and imaginative Csound-based audio tools for the iPad.

csGrain is a real-time audio processing and recording tool that lets you create sounds and textures by transforming your voice, instrument, or iTunes library.

With csGrain you can:
•Remix your iTunes library
•Process, record and save audio
•Manipulate audio with SyncGrain, a real-time granular synthesizer
•Connect a MIDI controller and turn csGrain into a live performance tool
•Create ever-evolving soundscapes with the Randomize Settings feature
•Choose from ten built-in effects, including:
pitch shift, ring mod, chorus, flanger, delay, reverb and more
•Import/export your audio via Dropbox, AudioCopy, or Email
Head to the iTunes App Store and grab CSGrain and experience the power of CSound on your iPad!