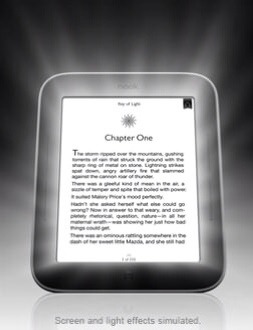 Well, you have to hand it to Barnes and Noble. They know how to turn heads, especially with the timing of their hardware releases. All day, the discussion has been about what the agency model settlement will do to B&N. Until Barnes and Noble announced their new "NOOK Simple Touch with Glow Light", aka a front-lit eInk device!
From B&N:
New York, New York – April 12, 2012 – Barnes & Noble, Inc. (NYSE: BKS), the leading retailer of content, digital media and educational products, today introduced NOOK Simple Touch with GlowLight, the world's first E Ink device with patent-pending lighting technology that eliminates the number-one problem couples have in bed – having their sleep interrupted, or being prevented from falling asleep, when their partner reads with the light on. With a soft, adjustable glow, GlowLight gives bedtime readers just the right amount of light for reading, without disturbing a sleepy spouse. Like having two Readers in one, the first and only Reader designed to let E Ink customers read in the dark is equally amazing at the beach, with a paper-like reading experience, even in the bright sun. This revolutionary device is the first to combine the most advanced and fastest E Ink display with a precise infrared touchscreen, built-in anti-glare screen for reading in any lit environment, and an evenly distributed and adjustable light for reading in the dark. NOOK Simple Touch with GlowLight is also the lightest NOOK ever, with a long-lasting battery for over one month of reading on a single charge, with the light on. Customers can pre-order the newest addition to the award-winning NOOK portfolio immediately for just $139 at www.nook.com and in Barnes & Noble stores. NOOK Simple Touch with GlowLight will be in stores and homes starting in early May, a perfect gift for Mother's Day, Father's Day and graduations.
This is exciting for a few reasons. One, it scoops Amazon, who is also rumored to be working on a similar front-lit screen. Two, it eliminates the biggest complaint about eInk screens, which is that they are hard to read in low light (just like regular books). Now you can pick up an eInk device with a backlight for $140…that is just jaw dropping. Consider that the original Kindle cost $399 and the original NOOK came out at $259. For less than either of those first-gen devices, you can now own a smaller, touchscreen, BACKLIT device!
Did not having a light keep you from buying a NOOK? Are you excited to see this "Glow Light"? Did anyone else have a toy glow worm as a child and immediately jump from "glow light" to "beloved childhood toy"? Check out the full B&N press release here, and then let us know in the comments!