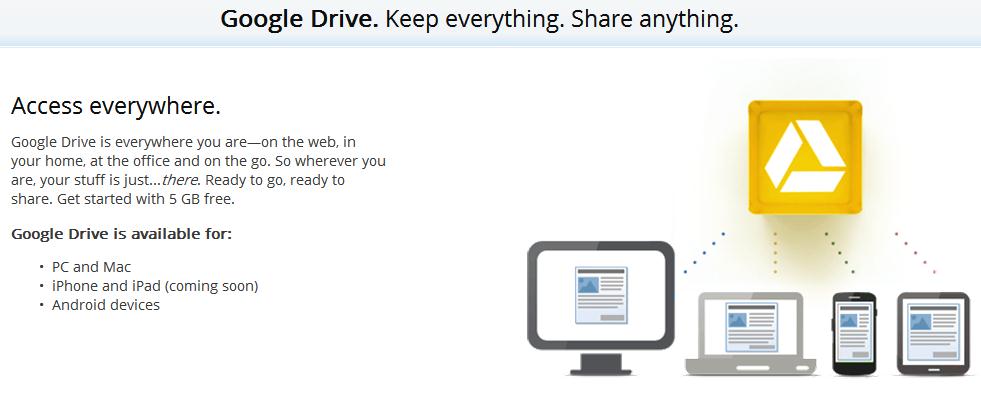 In one of the worst kept recent tech secrets, Google today announced Google Drive featuring 5GB of free storage. Here are some details:
Today, we're introducing Google Drive—a place where you can create, share, collaborate, and keep all of your stuff. Whether you're working with a friend on a joint research project, planning a wedding with your fiancé or tracking a budget with roommates, you can do it in Drive. You can upload and access all of your files, including videos, photos, Google Docs, PDFs and beyond.

The focus is on sharing, storing, and searching. Everything. Google Docs is built in so you can start creating stuff. You can install the desktop client on Windows or Mac to get a folder going.

You can get started with 5GB of storage for free—that's enough to store the high-res photos of your trip to the Mt. Everest, scanned copies of your grandparents' love letters or a career's worth of business proposals, and still have space for the novel you're working on. You can choose to upgrade to 25GB for $2.49/month, 100GB for $4.99/month or even 1TB for $49.99/month. When you upgrade to a paid account, your Gmail account storage will also expand to 25GB.
Perhaps the biggest surprise for me was availability:
Note that it is currently available for select Google accounts only; however, if you are not one of the chosen accounts, you can sign up to be notified when it becomes available to you.
And, of course, MY Drive was not ready. The surprise is that this is GOOGLE, infamous for 'release now, finish later' as a core business model. Google Music has spent a year in the open being totally craptastic for all to see and no one seemed to care … so I wonder if this is a sign that Google is taking responsibility to their users seriously. Nah, more likely they are just optimizing the monetization algorithms!