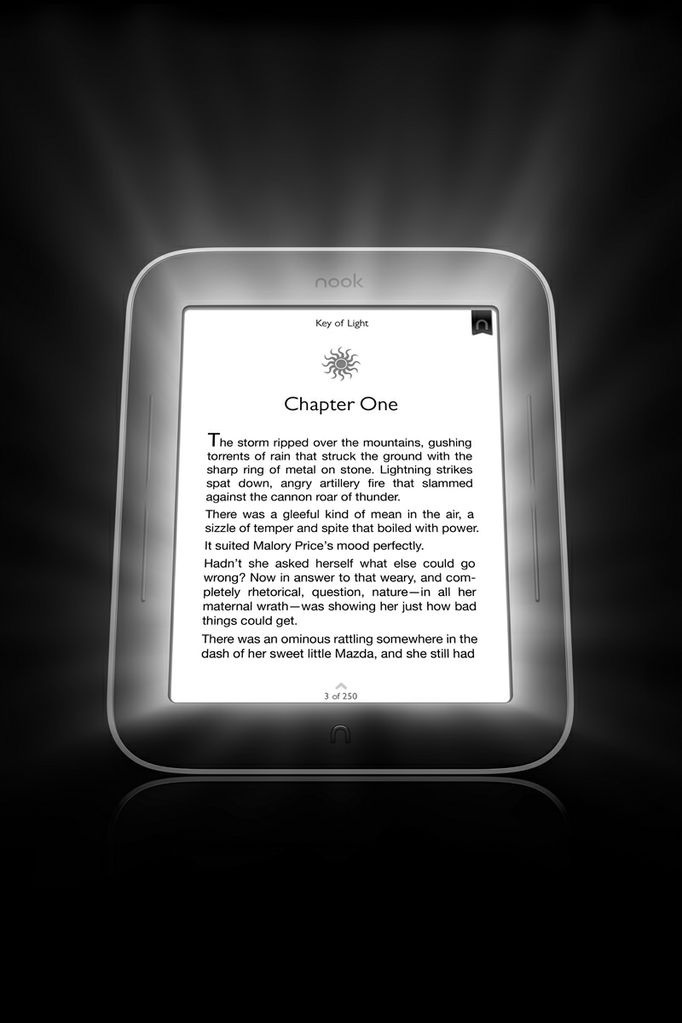 The folks at Barnes and Noble have been busy bees! Originally the NOOK Simple Touch With Glowlight was shipping in May, but B&N announced today the front-lit eInk reader is shipping now, though in limited quantities. Even better, reviews are starting to trickle in, and they are uniformly positive. It sounds like B&N has a winner with their first attempt at a front-lit reader, which is a huge jump forward.
From the B&N press release:
Barnes & Noble Now Shipping NOOK Simple Touch™ with GlowLight™ Ahead of Schedule
Pre-Orders Shipping Over the Next Week
Due to Strong Demand, Limited Quantities will be Available through Mother's Day
Customers Encouraged to Pre-Order Hot-Selling New NOOK at www.nook.com and in Stores to Ensure Delivery for Mother's Day

New York, New York – April 24, 2012 – Barnes & Noble, Inc. (NYSE: BKS), the leading retailer of content, digital media and educational products, announced today that it began shipping the highly anticipated NOOK Simple Touch with GlowLight ahead of schedule to customers who pre-ordered the device. NOOK Simple Touch with GlowLight is the world's first E Ink® Reader with patent-pending lighting technology that eliminates the number-one problem couples have in bed – having their sleep interrupted, or being prevented from falling asleep, when their partner reads with the light on. Due to very strong pre-order demand, the company recommends that customers who wish to gift the device for Mother's Day pre-order now, as orders will be fulfilled on a first-come, first-serve basis.

"Our new, patent-pending GlowLight technology coupled with the most advanced E Ink display available make this product the most versatile, high-utility Reader ever and the only device of its kind," said William Lynch, Chief Executive Officer of Barnes & Noble. "It's like having two Readers in one, with our breakthrough GlowLight technology making the device as exceptional for reading in the darkest bedroom as on the brightest beach, and all at the amazing value of just $139."
What's really striking is how much each reviewer really liked the Glowlight NOOK. The New York Times loved it, as did The Verge and Engadget. In the past, the only light up eInk screen available was from Sony, and it had mixed reviews. Some people loved it, but many felt it was uneven and had too much glare. So when each review of the NOOK with Glowlight specifically mentions how readable and generally even the light is, that says a lot about the quality of the hardware.
For $139, this is a slam dunk gift for Mother's Day, graduation, or Father's day. I suspect B&N wanted to get the device and reviews out before May hit specifically so they could prime consumers to seek it out for these events. It's a smart move, and hopefully it pays dividends for them!
Will you be picking up a NOOK Simple Touch With Glowlight? Have you seen one in person? Let us know in the comments!